"It's OK to take care of your mental health right now" — ATX Mental Health Fund
We spoke with Samantha Meyer about her initiative to destigmatize the discussions and relief around mental health in Austin, Texas-in response to COVID, and beyond.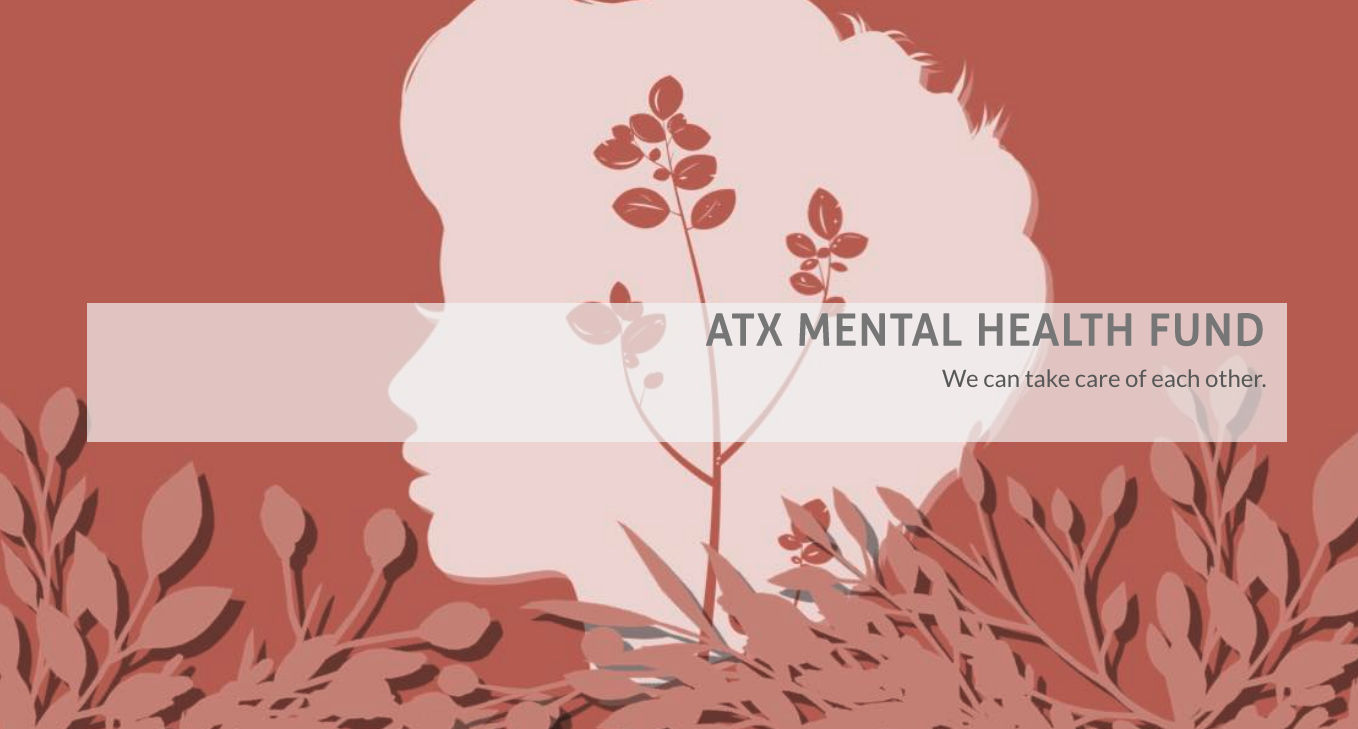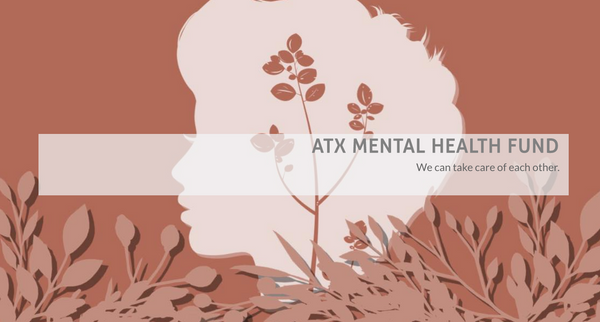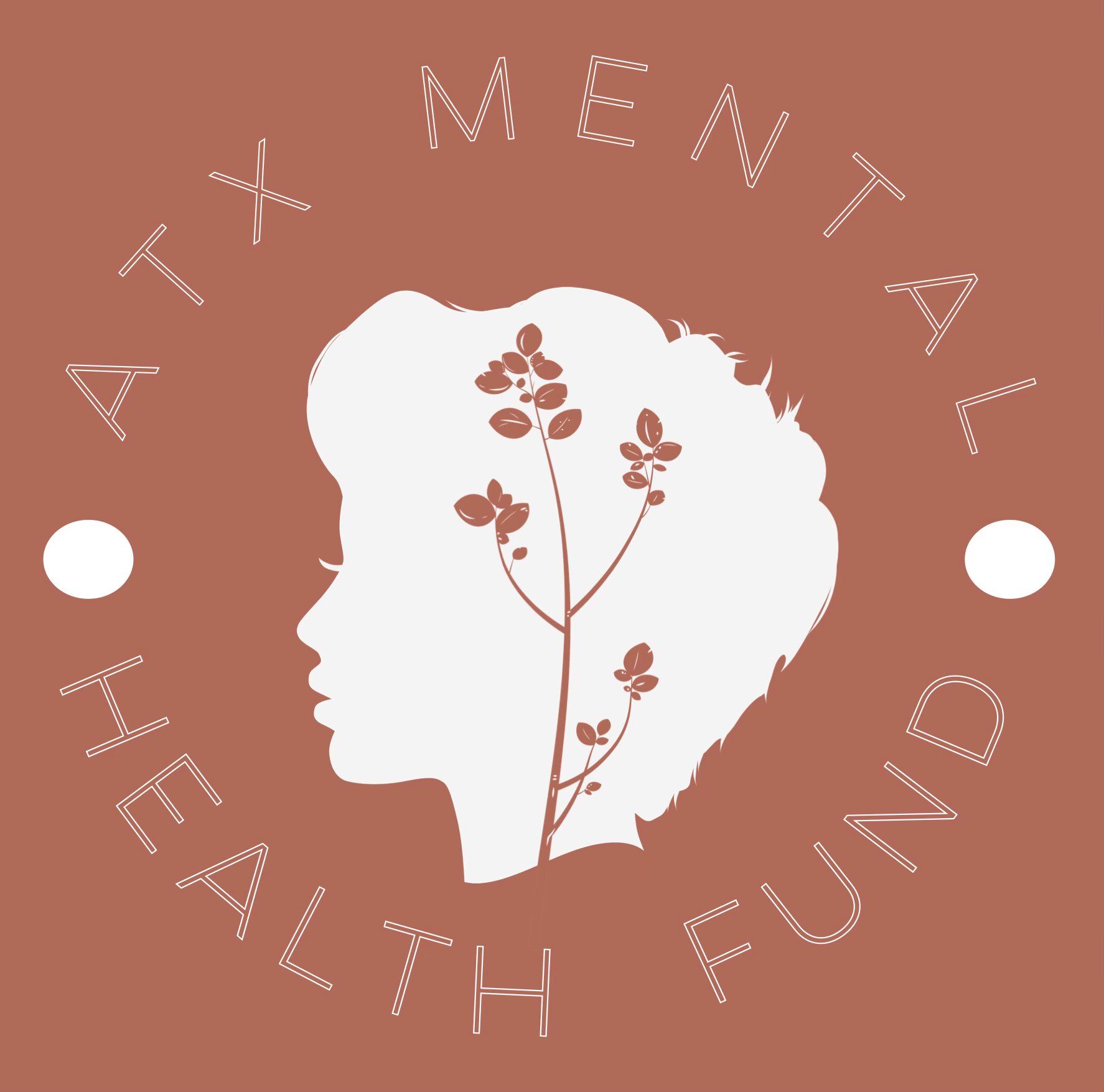 We spoke with Samantha Meyer about her initiative to destigmatize the discussions and relief around mental health in Austin, Texas-in response to COVID, and beyond.
Why did you form the ATX Mental Health Fund?
Samantha: I'm a mental health therapist, and also the founder of the fund. A lot of the work we're doing is making sure all of our website materials are therapeutic and written with a trauma-informed perspective in mind.
Mental health accessibility is something that is really important to me, because I know that even before Coronavirus, and especially in Texas, it was a really, really big issue. Here, we have the highest number of uninsured people in the country. I think the stats are one in five people were without insurance before COVID. And now that number is one in three.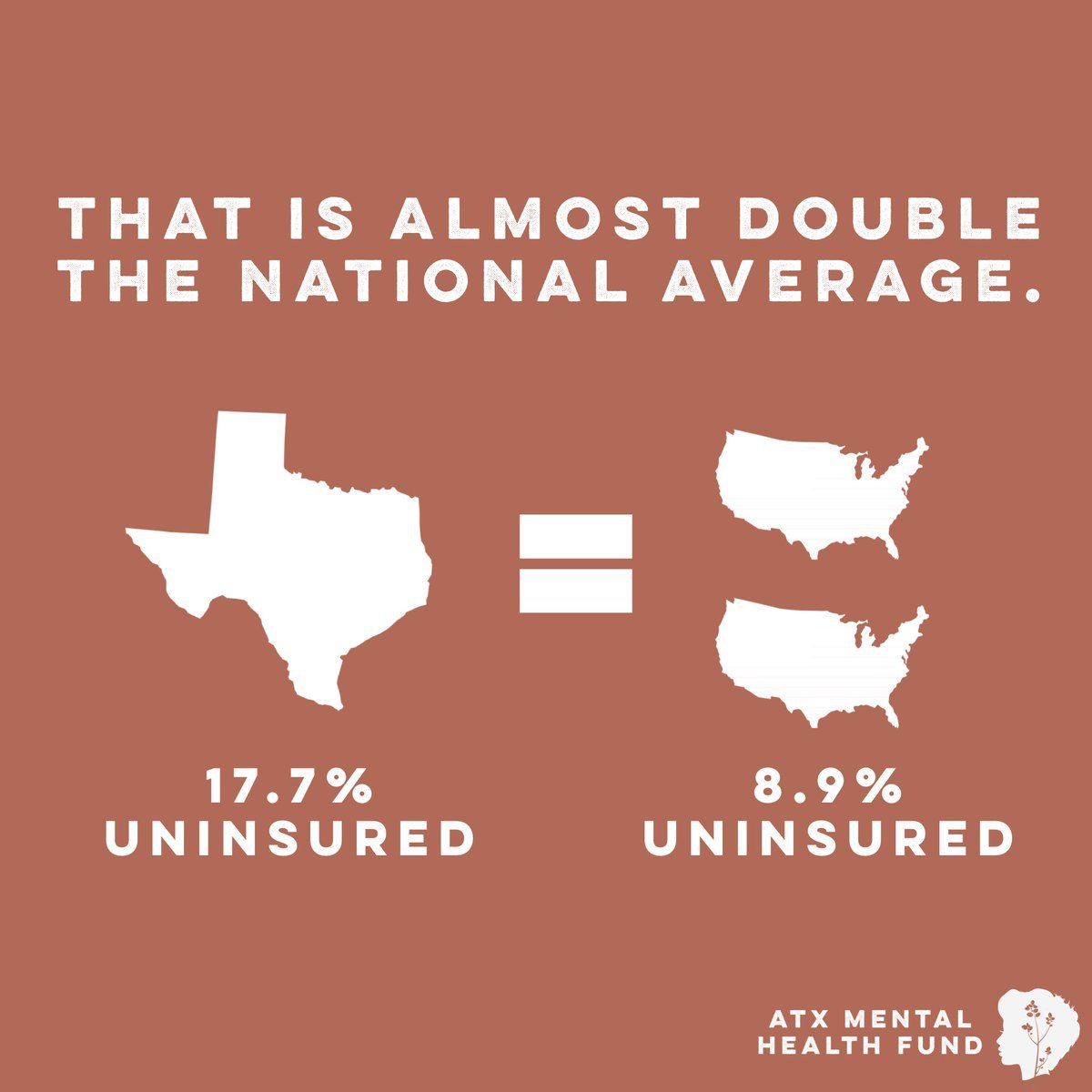 Seeing what was happening to everyone during COVID, especially in regards to losing access to insurance, when people were unable to work or lost their jobs because of the pandemic, was really worrying to me, and to a lot of people in the mental health field. We already had a crisis with people being able to access mental health care.
Then with COVID, we knew that crisis was about to get a lot worse, especially because COVID itself is a mental health crisis. There are a lot of studies that show that social isolation negatively impacts mental health. We're all kind of going through that right now, having to socially isolate for our safety. That, in itself, is really exacerbating mental health issues for a lot of people.
How did you begin organizing?
I had the idea back in July when I was involved with other local mutual aid groups: Austin Mutual Aid and ATX Free Fridge Project. I was inspired by seeing community members come together to meet urgent needs in the community. I wanted to start a similar effort, specifically targeting mental health accessibility.
There were a lot of funds that were set up for direct cash assistance, mostly for emergency rent relief, or grocery needs, which are definitely really big needs in the community right now. But I do think there is kind of "Maslow's hierarchy of needs" where mental health goes neglected because people have really urgent, immediate needs, like housing and food.
I wanted to create the fund not just to meet that need, but also to remind people that it's okay to take care of your mental health right now. Even though there's a lot of very stressful things happening, we can focus on mental health and give people the funds that they need to take care of themselves in that way, too.
What does your group do?
We are all about direct cash assistance by redistributing money to community members that need to cover expenses related to mental health care.
I want to focus on direct cash assistance because, from my experience as a case manager, direct cash assistance gives a lot of agency to community members to assess their own needs, and to put that money towards whatever best fills that need for them. So much of mental health care being 'successful' depends on finding the right fit between the person and their provider. Direct cash assistance really allows people to have that choice of which providers they see and what mental health looks like for them.
How does it work?
We have a request form, which we've tried to make very therapeutic, because we know that even asking for money is a really stressful process. We collect some basic information that allows us to transfer the funds.
Then we have a checklist section for what those funds are going to be used for. It has examples of potential uses of the money for individual therapy, group therapy, psychiatric care, medication, any other form of mental health care, indigenous healing practices, spiritual counseling, or really anything.
We also include a spot for any material items that could be helpful for mental health, like weighted blankets or fidget toys for example. We really try to cover a lot of bases.
We want to make it really easy for people to just check off in broad strokes what they're going to use that money for, without having to go into details about their mental health diagnosis. I really believe that people should be able to access funds without having to go through a potentially traumatizing process. There is an element of trust with the community. We're also going to collect some data that allows us to assess what the needs of the community are.
The maximum someone can receive is $600. That covers about 6 weeks of therapy. People can request an exact amount that fits with the funding tier they've selected. The more donations we have, the more people we're going to be able to help. We also triage requests based on urgency, so we'll try to get the money to them within that month. If there is more of a long term need, then we can get that money to them a little bit later.
Why mutual aid?
I wanted to create a fund with the principles of mutual aid because I wanted to help redistribute resources among Austin residents locally. The idea of 'community members helping other community members' really attracted me to mutual aid, and the idea that there's not one group of people that needs help and another group of people that receives help. Mental illness is something that most people are going to have an experience with at some point in their life.
It's really important to reduce the stigma around it and say, 'As a therapist, I also have my own therapist'. And most therapists do, because we don't just fill one role. Our roles are always in flux, and mutual aid really leaves room for that, for being able to inhabit multiple roles. The idea is that our fund recipients aren't just receiving help from their community, but they're also giving back to their community in other ways.
People who have given to the fund before might at some point need to receive funds themselves. Situations change. Mutual aid just really embodies all of that.
Why Open Collective?
Open Collective is great, because we were able to get a fiscal sponsor through y'all with Open Collective Foundation as our fiscal host. We needed to answer the question of 'How do we collect funds from people and redistribute those funds responsibly, transparently, and legally, without having a huge tax burden on whoever's bank account?'.
Open Collective really was the perfect solution for that, because it allows us to be a new and small organization, and a mutual aid fund, while receiving tax-deductible donations that are going through a transparent account, allowing our data to be public for our community. We have that accountability. Also, our fiscal host taking on that financial reporting responsibility and tax liability is super helpful. For an organization that's run by volunteers, it was really the perfect thing for us to get started.
If everything went really well with fundraising, what would happen for your initiative?
We're hoping to grow recurring donations. We want to have a reliable amount of money we're redistributing every month, so that we can become a trusted resource in the community. That way, when people do have a mental health need that can be solved through direct cash assistance, they know that they can come to us and we'll be able to help.
We have a really acute crisis with COVID. Hopefully we get that under control, but those mental health needs are going to continue long after the pandemic.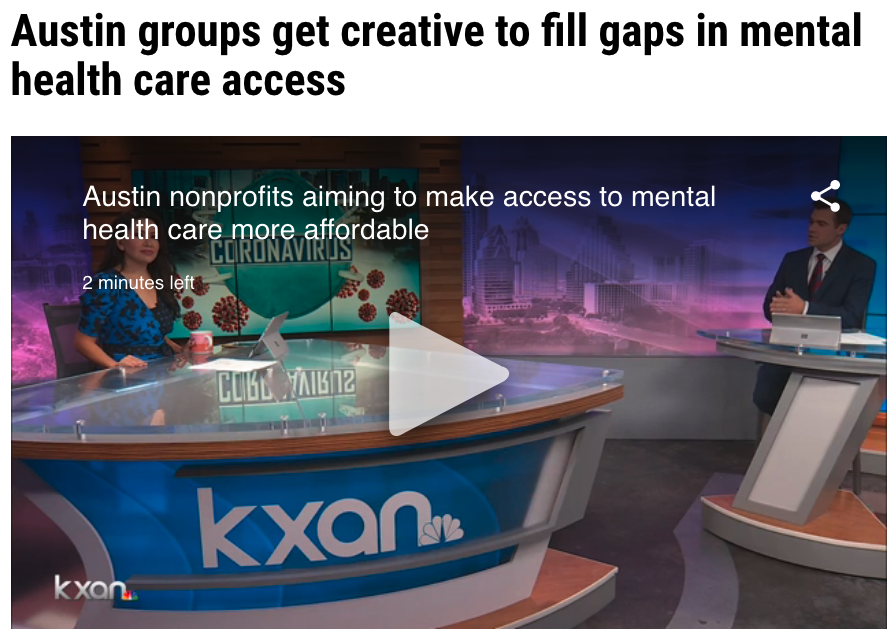 How can we continue to sustain the mutual aid ecosystem?
We're doing direct cash assistance, handling and redistributing money. Historically, when starting an organization like this, it's pretty hard to get going without initial capital. I think Open Collective is a really good solution for newer mutual aid organizations running into the financial bureaucracy. It's a big barrier, but that bureaucracy is there for a reason.
Mutual aid is anti-capitalist in nature. It's saying: let's lower that barrier of entry and redistribute resources in the community without needing a wealthy benefactor or starting capital. Platforms that allow for mutual aid groups to find fiscal sponsorship are helpful. Providing education and awareness about what mutual aid is and what makes it so great can empower people to say, 'It's really easy to get involved in these efforts in your community.'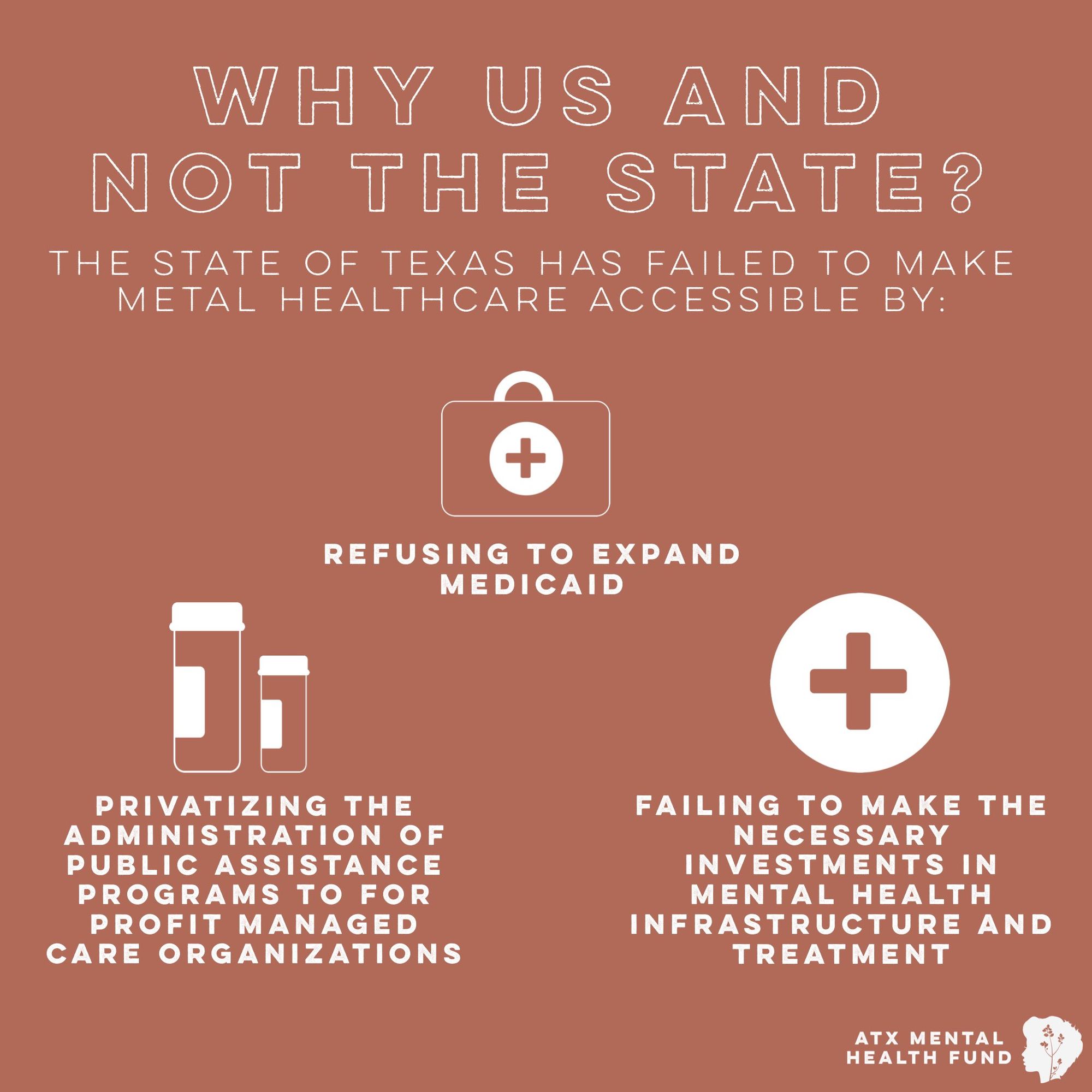 There is a big desire for people to get involved in these kinds of efforts. It's just about spreading awareness of what opportunities are out there. There is a growing network of mutual aid organizations since COVID began. We're seen people offering to help any way they can. We're networking with different mutual aid organizations in the city, and trying to cross-promote with them.
In January, we collaborated with Set Supper Club, another local group focusing on mental health in the service industry, for an educational panel discussion about mental healthcare accessibility. It was an awesome conversation!
Who can get involved? And how?
We're an Austin organization (though you can donate from anywhere). If you live in Texas, or in the Austin area, contribute to create a local network of support.
We really encourage people to become a sustaining donor, so that we can rely on that donation every month. That allows us to do a lot of good long-term work with mental health needs, and to be a trusted resource in the community.
Another way you can support is by spreading the word: sharing our fundraising link on your social media and to friends and family. If someone has a need related to accessing mental health care, share the link to our request form with them, so that people in the community know that this is a resource that's out there.
In the winter, we started a project called "Mental Health Match Up" which matches up Austin area community members with a "buddy" to give and receive emotional support during the holiday season. This project was initiated in response to the loneliness of the holiday season during Covid, but we've continued the project this year, and people can still sign up to be matched with a buddy through the link on our LinkTree.
Follow our socials, because we're going to be promoting those other organizations. That means if you're looking for a place to donate time as well as money, we're going to be promoting other local mutual aid organizations that could really use volunteers.
Is there anything else you want the world to know about ATX Mental Health Fund?
We're big on destigmatizing receiving health care, and also destigmatizing direct cash assistance. People have really different attitudes about that. With COVID, we're really seeing people see the positive side and potential of direct cash assistance—what happens when we empower the community to voice its own needs, and to use money in the way that they see best. We really want to advocate for this method of giving and and trust within the community.
We can show people that this works, that this is a great way to start sharing resources among community members. That's when we really see that stigma start to go away. And also hopefully start a conversation about mental health care accessibility, and destigmatizing talking openly about mental health needs.
This month, we are working with a local group who are providing free short term counseling to people affected by the winter storm here in Texas. Our goal is to raise $1,500 so that everyone on their waitlist can have access to three free counseling sessions. The winter storm was a collective trauma that affected so many people in our community, and we want to support people who may not have access to immediate metal healthcare. That fundraiser is going on right now on our Open Collective page. We would love to spread the word to potential donors who can help us reach our goal!
Follow ATX Mental Health Fund