New Paid Plans for Fiscal Hosts


We are launching  updated features for Fiscal Hosts on Open Collective, with a new pricing plan.
Fiscal Hosts are the entities behind the scenes who make it possible for Collectives to receive and spend money, these changes apply to them.
The Story So Far
We started Open Collective with a revenue model based on charging a commission on credit card payments to Collectives.
The pricing model so far been: 5% Open Collective platform fees + credit card processing fees + fiscal host fees (usually 5% depending on who your host is). Funds contributed by credit card automatically show up in Collective budgets and the platform was optimized for that flow.
This makes sense for small recurring contributions, and it's still working well for crowdfunding-style approaches.
But as our community has grown, different need emerged. More Fiscal Hosts joined Open Collective. Fiscal Hosts are organizations that receive and hold funds for Collectives and provide them with the legal structure to operate. Hosts needed the ability to add funds to Collective budgets received via other means, like bank transfers, ticket sales, t-shirt sales, ethical advertising, etc.
To serve this need, we built a basic version of a feature, called simply "add funds", which Hosts could use to make manual credits in the system. Until now, it hasn't been part of our revenue model and it's been free to use.
Where are we now
What started as a basic feature took off rather quickly. In 2019, of the ~$8M managed on Open Collective close to 50% was added manually (indicating the funds were collected using another platform or directly sent to the host's bank account).
This means two things:
First, funds added this way came to represent a significant proportion of total funds in the system. Because it's a manual process, the support requirements for this feature have grown considerably.
Second, it's hard for us to prioritize features that don't support our own financial sustainability, so we haven't been giving this feature any love. To build great features that support all the ways Fiscal Hosts want to manage money, and to represent the value we provide our users, we need a pricing model that makes sense.
A new pricing model for Fiscal Hosts will enable us to prioritize many more features to make their lives easier, like better support for PayPal (lower transaction fees, recurring contributions), batch expenses (submit and pay multiple receipts at once), overhauling the Host Dashboard, a built-in feature for collecting tax forms or other required documents, and adding support for more payout methods (like direct bank transfer from the Dashboard).
We are moving beyond just credit cards for financial contributions to Collectives, and we're updating our pricing model to reflect that.
Introducing Fiscal Host Plans
We will charge Fiscal Hosts based on the number of Collectives they host. We want to keep Open Collective affordable for smaller organizations while reflecting the true value we provide to larger ones who use our service extensively.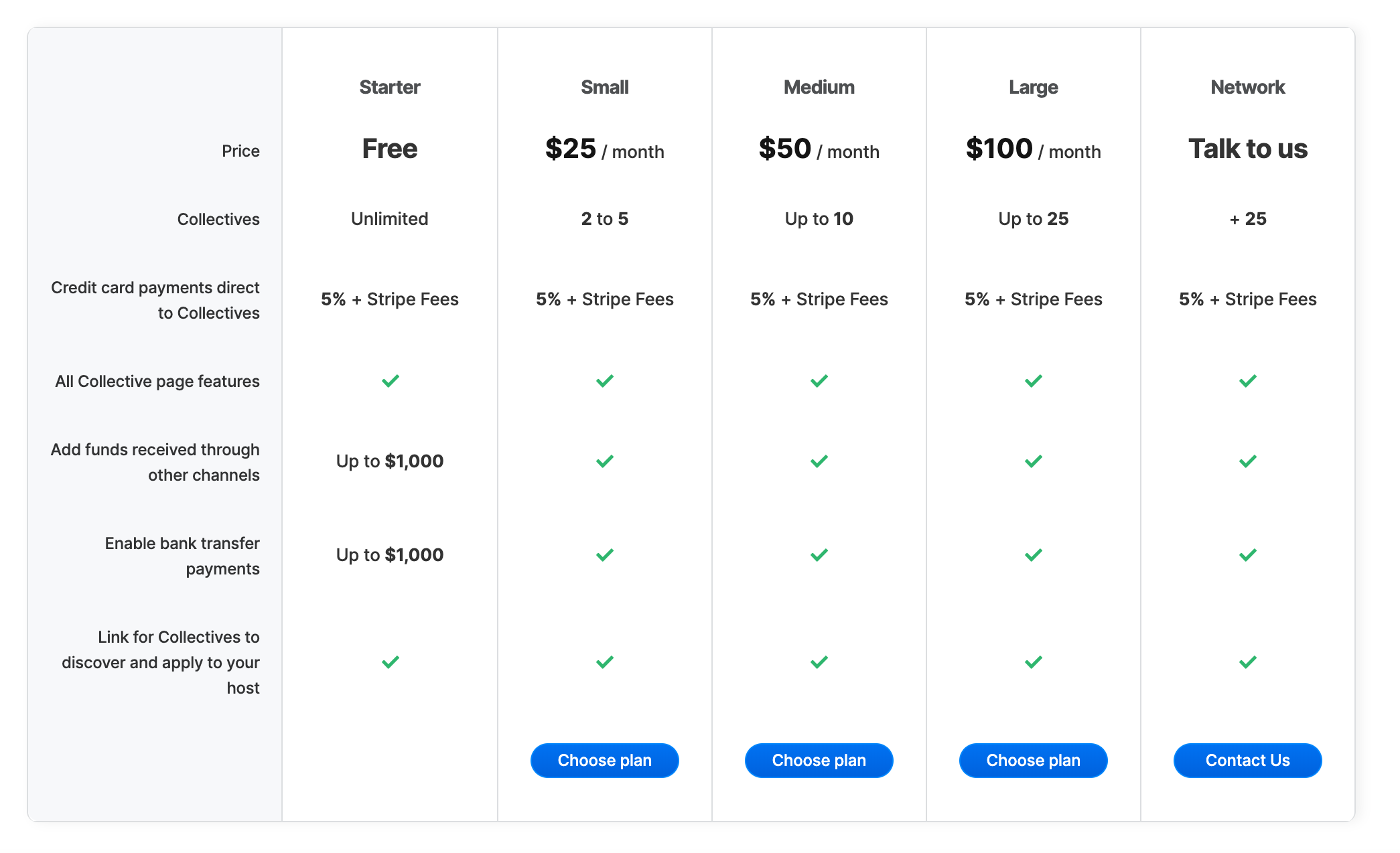 How it works
Pricing unchanged for credit card payments: Pricing will remain unchanged at 5% for contributions received via credit card. You don't have to pay a monthly fee if you are only accepting credit card payments.
Add funds manually and 'Bank Transfer' payment option: We only want to ask you to pay us if you are successfully raising funds for your projects. So it's free up to $1000 across your Collectives. After you've reached that limit, you will need to upgrade your plan.
Transferwise as a payout method: Also free up to $1000 of payouts. After that you'll need to go on a plan.
If your Collective is in a Fiscal Host such as Open Source Collective (representing most open source projects on the platform) your pricing will not be affected. Our new pricing model relates to what fiscal hosts pay to use Open Collective.
How this change will affect existing Fiscal Hosts
We will legacy you in for a year in your current status. "Add Funds" will continue to be free until the end of 2020, but if you want to turn on Bank Transfer payment method or scale up (for example from a Small Host to a Medium Host) you will need to go onto one of the paid plans.
How this change will help you
We've already been releasing steady improvements recently, such as:
A redesign to the look and functionality of your host page.
A contact button and form so people can reach you.
Option to toggle on and off applications from new Collectives.
The ability to un-approve, un-pay, and delete expenses if there's been an error.
Profile picker to help you find the right one when adding new admins or selecting Collectives or the source of funds.
Built-in discussion forums called Conversations.
Coming soon
Keep track of all your groups budgets: Each project becomes its own Collective with its own funding page. As Fiscal Host, you can allocate money to Collectives any time. Collectives have fully transparent budgets, updated in real-time and financial reporting becomes automatic and accessible, no spreadsheets required.
Easy expense management: Expenses, with invoices or receipts, can be submitted directly to the relevant Collective by anyone. You can set a global expense policy and your collectives can add their own. Use PayPal and Transferwise (coming up!) to make payments with no hassle.
Combined Funding Sources: Crowdfunding functionality is built-in, so Collectives can seek wide support. Event ticketing feature makes it easy to add proceeds from fundraising events. Easily add multiple grants from different sources, coordinate match funding, and accept sponsorships. All funding sources are combined into a single transparent budget, with automatic documentation.
Detailed Reporting for your organization's accounting: In addition to being able to zoom into any Collective budget at any time, you'll receive a consolidated report every month with all transactions across all your Collectives, and a single PDF with all invoices and receipts. Your accountant will thank you!
🙏 Thank you for trusting us to help you enable Open Collectives in your community.
Don't hesitate to share your feedback and requests for features! You can create an issue or email me (pia [at] opencollective [dot] com).  
-- With love, Pia & the Open Collective Team
---
FAQs
What is a Fiscal Host?
A fiscal host is a legal company or individual who enables financial transactions, holds funds, and takes care of liability and taxes for a Collective. Fiscal Hosts make it possible for Collectives to transact without incorporating their own legal entity. Each Fiscal Host sets its own fees charged to Collectives, most commonly between 0% and 10%.
I am an existing Fiscal Host, what happens to us?
You will be legacy'd in until the end of 2020 with no changes to your pricing, unless you opt to activate new features under paid plans.
I am an Open Source Project, how does it affect me?
If your Collective is in a Fiscal Host such as Open Source Collective (representing most open source projects on the platform), your pricing will not be affected. Our new pricing model relates to what fiscal hosts pay to use Open Collective.
What if I want a single Collective and use my own bank account?
You will begin on a free Starter plan and once you reach the $1000 limit, you'll move to a $10 a month plan.
What is the Bank Transfer Feature?
If selected during checkout, payers will receive wire instructions (that you define), including a unique reference number for tracking. Once you receive the payment, you can simply mark it as paid in the "pending orders" section of your host dashboard.
What happens with inactive Collectives?
You can de-activate (archive) Collectives so it doesn't affect your plan level.
Can I still use Open Collective for Free?
Yes, Open Collective is free to set up and you can use all new features for free up to $1,000 added manually. You can also opt to not use these features and you'll keep paying a 5% commission on what you raise with credit card payments, with no monthly charge.