How OCF Developed a New Compensation Model (part 2)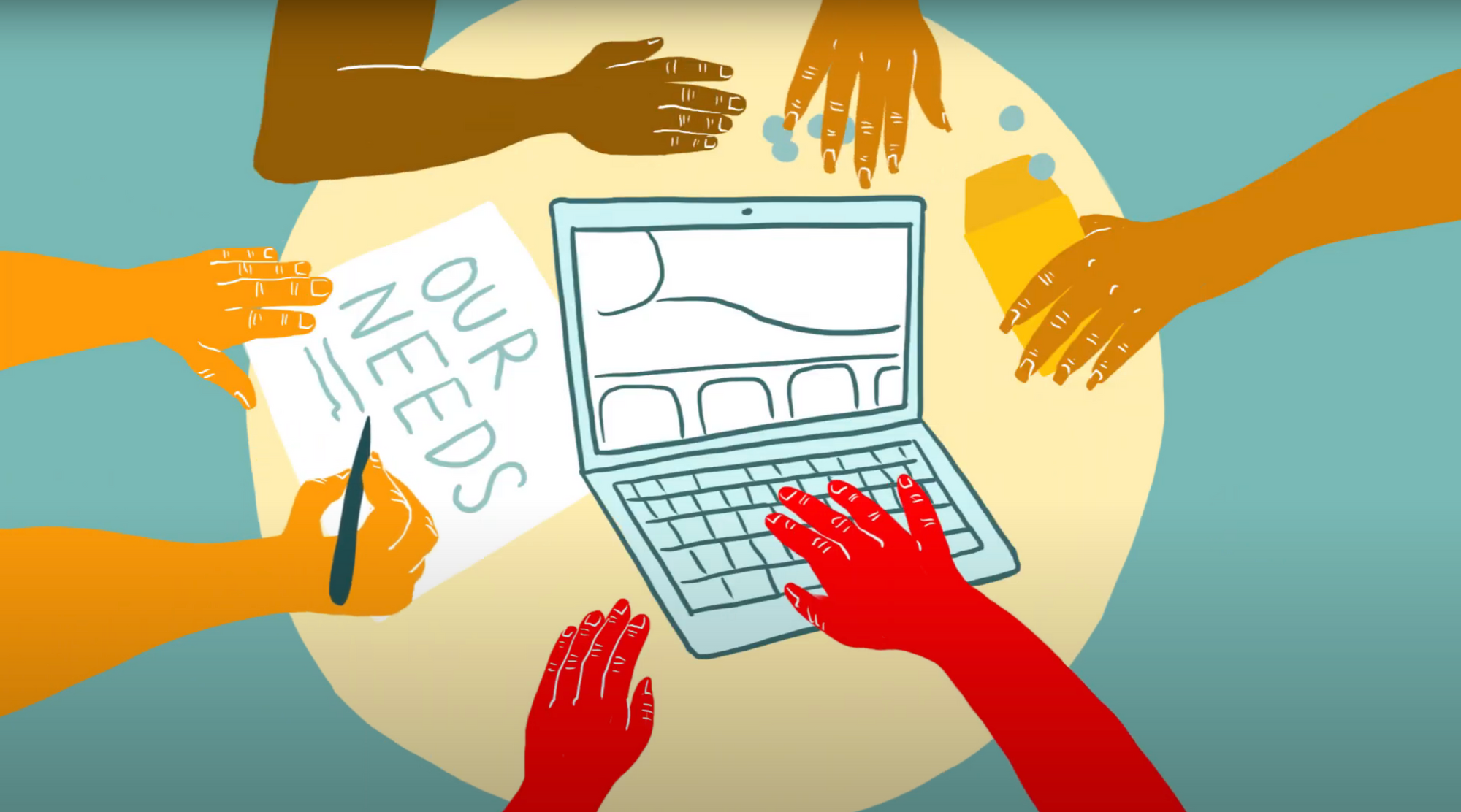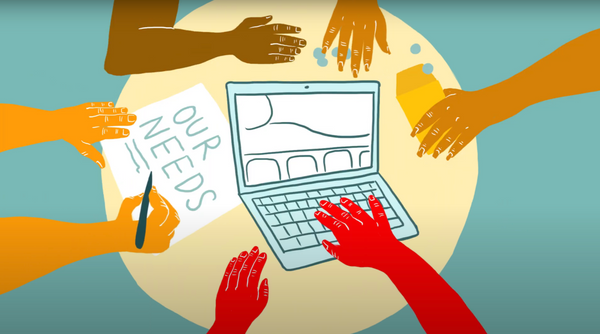 Open Collective Foundation is one of  many Solidarity Economy organizations exploring collective pay-setting. We are sharing the behind the scenes details of how we came up the new collectively-created compensation model that we announced in part one. Open Collective Foundation serves a community of over 400 Collectives that each have their own decisions to make about paying people. We hope this helps others on a similar journey.
Compensation and money are complex topics, spanning the full spectrum from deeply personal experiences to big-picture social and economic questions. We wanted a thoughtful process, appropriate to the importance and power of this topic, but also to achieve a tangible model we could put into practice in a reasonable timeframe.
Fortunately, OCF has a high-trust, transparent culture and a well-established practice of collaborative experimentation. We're a small, close-knit team, and we felt ready to dive into this work together, despite the many unknowns and strong feelings. We also had the extremely valuable guidance of Greaterthan throughout.
"Proceed with caution when opening up the topic of compensation and money! It can bring up very sensitive topics and emotions, and most teams are not prepared to deal with this. The Open Collective Foundation team is a great example where the required groundwork on culture and psychological safety has been done, for this work to be enriching and valuable."
—Francesca Pick, Greaterthan
Our decisions about compensation are ultimately rooted in our mission & values and our guiding principle of solidarity. And of course, ultimately everything we do is to provide value back to the Collectives we serve. Referring to these foundations helped us stay on the right track as we navigated this new and complex area.

The Journey
See part one for the results of the process below and details of how the model we created works.
Step 1: pre-work
We began by asking the team to self-organize into groups of three to discuss their feelings about their current compensation, how it was set, what it means to be paid 'fairly', and what is important for a new model. These prompts helped us surface our feelings and get comfortable sharing about compensation with one another. We captured notes from these sessions on a shared Mural board, which we updated throughout the subsequent steps.
Step 2: compensation working group (establishment)
We asked for volunteers from the team to join a working group to absorb the feedback from the discussions and workshops, and synthesize it back to the group in the form of a draft model for consideration. Three people put their hands up.
Step 3: facilitated workshop
Greaterthan led an interactive workshop where we learned about self-set compensation models of other organizations, the components and forms different models have, and discussed what we might want for OCF. It was incredibly valuable to have this guided tour of the landscape, peeking at over a dozen different examples. We learned that 3 key aspects of a compensation model are self-setting, salary formulas, and collective decisions—some models are based on one of these, while others have a combination.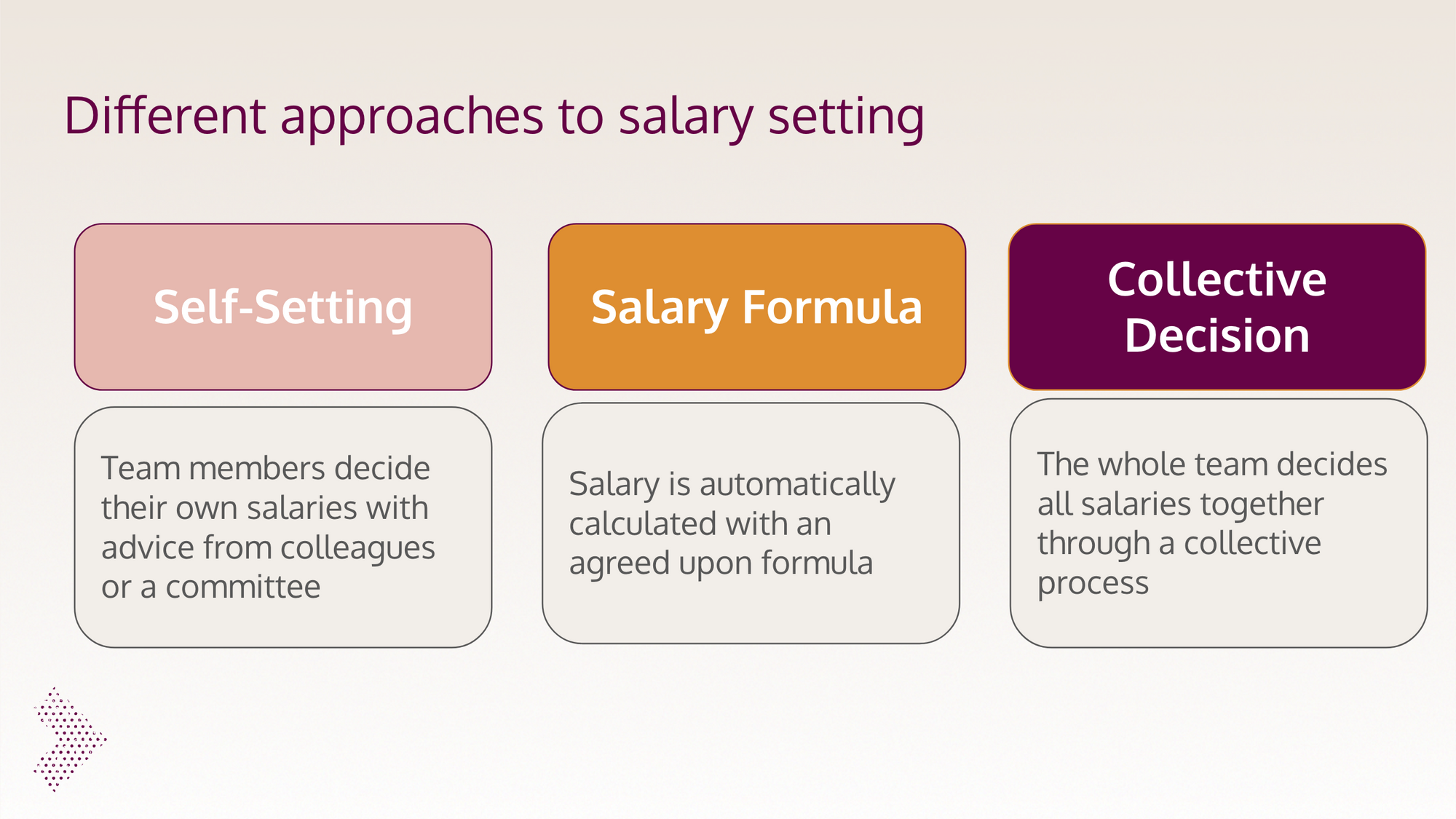 We then were guided through various exercises to draw out what kind of model we felt would work best for OCF. What would a good model make possible? What was really important to us? What balance of components—self-set, formula, collective decision—made the most sense in our context?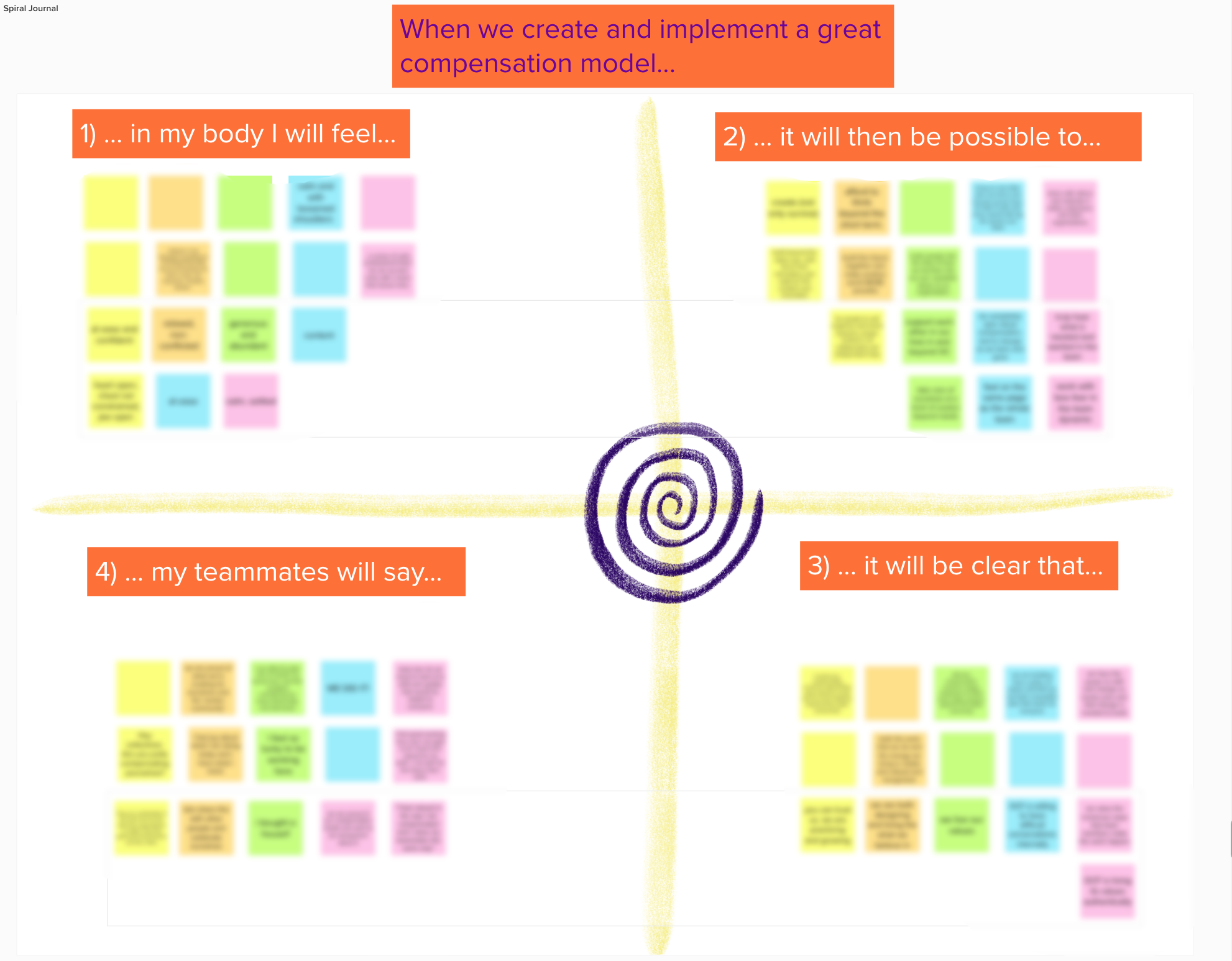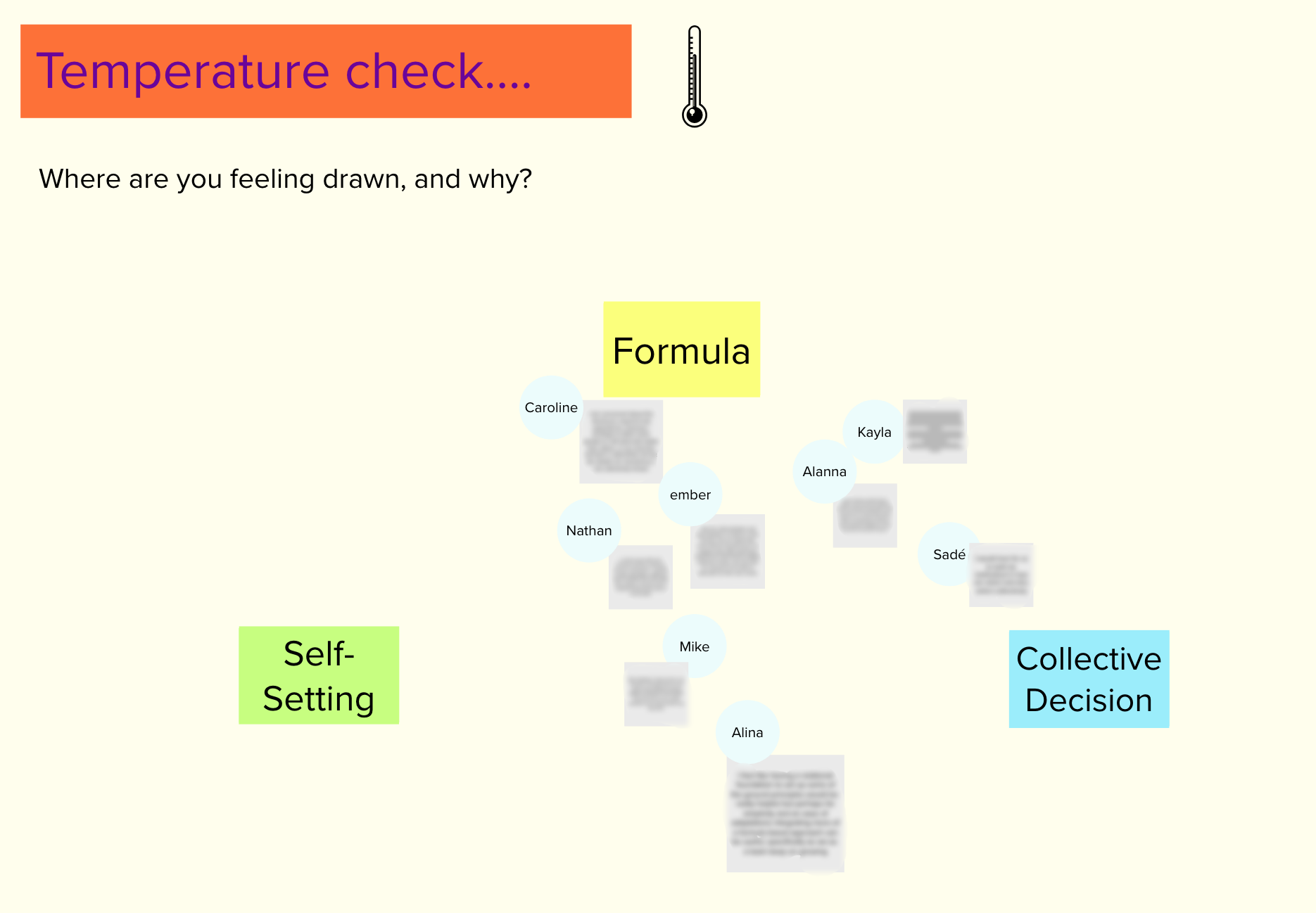 Step 4: draft model
The working group took away all the reflections from the workshops and discussions, and synthesized it into a draft compensation model, attempting to weave together what the group said it wanted. This was then presented back to the team in the form of a document explaining the model, a calculator, and a video walkthrough.
Step 5: feedback and tweaks
We gathered feedback in a range of ways, including a session at the in-person Open Collective retreat that happened to fall in the middle of this process, in small groups and one on one conversations between team members, and on Loomio (an online collaborative decision-making platform). This feedback resulted in clarifying many things about the model, and tweaking some aspects. The areas that generated the most discussion were responsibility levels and the personal factors.
Step 6: compensation working group (ongoing)
The model itself defines the ongoing role of the compensation working group, which plays an important part in how people's pay gets decided. This is a different approach than the initial working group, which was tasked with designing the model itself. So, we had another round of asking for volunteers and shuffled the working group members. The current plan is for the working group to stay with its current makeup for some time before changing again.
Step 7: prototyping
Before actually changing anyone's pay, we needed everyone to go through the full process so we could wee the outputs and ask ourselves if the model as a whole was working. Every person went through the full experience and arrived at a new pay rate, provisionally. This step made the model very tangible and personal, surfacing another level of understanding, questions, and feedback. As the process involves small group and whole group involvement, alongside self-set individual aspects, we could also observe the compensation experience of others on the team and consider the model as a whole. It was a challenge to hold these provisional numbers lightly and not get attached to outcomes too soon.
Step 8: team check-in
At this point, we had a lot of data: reflections, notes, feedback, experiences, and a proposed list of everyone's new pay rates. We had one more team workshop session where we reviewed everything and did a temp check: are we going for this? We also had an anonymous poll on Loomio, in case anyone had reservations they were hesitating to share openly. With no blocks, we moved forward.
Step 9: implement 3 month trial
The compensation model we came up with is only a first iteration; we fully expect it to keep evolving. But we didn't want to wait for perfection before taking a step in the right direction and adjusting people's pay for real. So we had a formal Loomio proposal to implement the new model as a 3-month trial period. It passed unanimously.
Check out the "reflections from team members" and "what's next" sections of part one to learn some of the pros and cons of this process, and questions we still have outstanding after reaching this point.
Do you want to do this in your organization or Collective?
Open Collective Foundation is one of many organizations in the broader solidarity economy movement engaging with these ideas, and our own community is made up of hundreds of Collectives who each have their own decisions to make about spending their budgets and paying people.
Some groups have already gotten started. Caroline Woolard is both the Director of Research and Partnerships at OCF and an admin at Art.coop, and was able to bring learnings from OCF's experiment in self-set compensation over in real-time. She explains:
"At Art.coop we hired Dr. Herukhuti Williams to facilitate a series of conversations with our collective about our experiences of work, self-worth, and money, which led us to shift the way we work to embody the solidarity economy principles.

Dr. Williams prompted us to ask, what would it mean for us personally and as an organization to be:

(1) Committed to each other in our personal and organizational relationship,
(2) Committed to identifying what you each need so that you can show up for and in those relationships, and
(3) Committed to using Art.Coop program and practice to secure/create/obtain what you each need, so that you each can show up for and in those relationships?

The outcome was that nearly all of us needed to get paid more, as we were underestimating and undervaluing the amount of time we put in. We are recommitting to our relationships, to the ways we tell our stories, and to ask to have our needs met on a weekly basis."
We will continue to post updates about this process and share how Collectives are experimenting with financial decision-making on our social media: IG / Twitter / Facebook. If you want to adapt what we've done for your own context, or you've already been through a collaborative salary-setting journey, we'd love to hear your stories, reflections, and questions!
Links & resources