Launching Open Collective New Zealand
For kiwi projects and communities who want to raise money. Open Collective has already helped thousands of groups around the world raise and manage millions of dollars—now through Open Collective NZ, kiwis can too!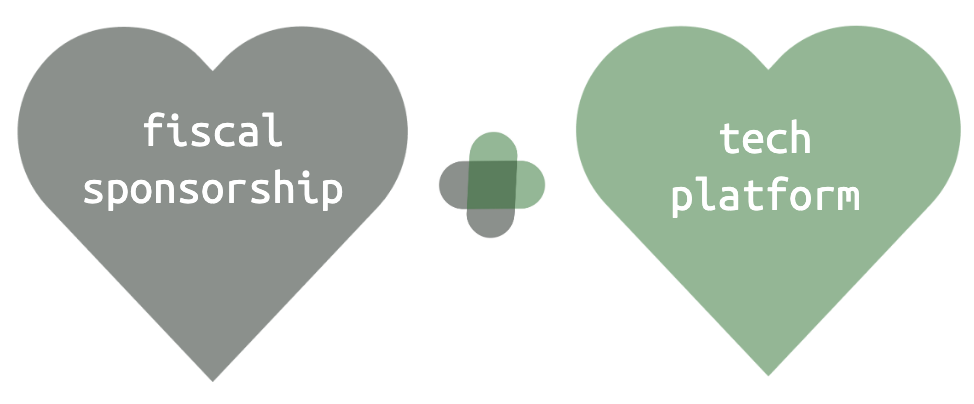 For kiwi projects and communities who want money, without all the painful and boring stuff that comes with it.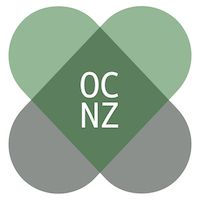 Ever since I joined the Open Collective team, I've wanted to bring this unique service to my local community. Open Collective has already helped thousands of groups around the world raise and manage millions of dollars—now through Open Collective NZ, kiwis can too!
Watch this video introduction, or read on for more details.
The problem
Groups who want to raise money are not always set up for it. Money involves things like banks, invoices, contracts, and taxes, which are designed for formal entities. Without an entity, an individual has to hold collective funds in their personal bank account (or sock drawer), and that can obviously get messy.
Imagine you and some collaborators run a successful crowdfunding campaign for a community group or side project. After a month you've got $50,000 and you're popping the champagne. But... Where do you put the money? Who pays tax on it? Do you have to hire a lawyer and accountant? How do report back to your funders?
Wouldn't it be nice if you could just outsource all those problems?

Some groups don't fit the standard formal structures—like open source software projects, meetups, social movements, grassroots campaigns, community initiatives, mutual aid associations, and grant recipients.
These groups aren't owned by anyone and aren't incorporated, but they need a way to interact with money so they can accept sponsorships, collect membership dues, or sell event tickets. They'd much rather stay focused on their kaupapa than get bogged down by a bunch of admin.
Organisations who want to be funders also run into issues from the other side. A company might want to sponsor a meetup group related to their industry; a local government might want to support a community initiative; a foundation might want to fund an emerging social movement.
But formal organisations can't just send money to some random person's bank account. They need invoices. They need a solid pitch to justify the budget line. They need to know what happens to the money and see the impact. Formal entities can only really interact with other formal entities.
The solution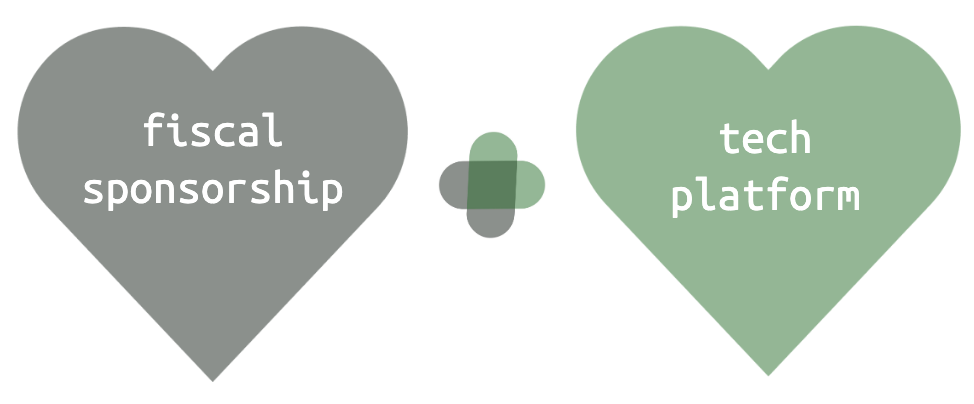 Fiscal Sponsorship (also known as auspicing) is where an existing organisation allows use of its legal entity and bank account, so a project doesn't have to set up its own infrastructure.
Up to now, fiscal sponsorship has mainly been used in philanthropy, where grants often require a registered charity to be the fund-holder. If the grantee doesn't have their own charity, they temporarily move into an existing one. This is often done on an ad-hoc basis, and it can be a distraction and a pain on both sides.
We bring the fiscal sponsorship concept beyond charity to all sectors, and make it the core focus. OCNZ takes care of banking, taxes, legal, reporting, accounting, and payments—so projects can keep focused on their mahi and funders can get their requirements met.
The tech platform, Open Collective, is software that's purpose-built for fiscal sponsorship. When a group signs up, they become a Collective, instantly getting a page online to fundraise, engage their community, and track their budget transparently.
In the background, the funds sit in OCNZ's bank account. When a Collective wants to spend their money, they submit an expense online and OCNZ takes care of the rest.
How it's different
This powerful combination of fiscal sponsorship with a tech platform allows us to provide all the tools communities need in one place. It's different compared anything else out there.

Compared to PledgeMe...
PledgeMe is great for one-off campaigns and for advanced stuff like equity and debt crowdfunding (which we don't offer). OCNZ has a different niche: ongoing projects that want ongoing funding.
While Open Collective does have crowdfunding functionality, it's more basic and not made for time-limited campaigns with a big buildup and climax. What sets us apart is fiscal sponsorship, i.e. holding and managing money. You can combine multiple revenue streams, including crowdfunding, sponsorships, grants, and event ticket sales, into one budget.
You could even run a PledgeMe campaign and then jump over to OCNZ when it's time for the money to be paid out, because we're here to help with everything that comes after.
Compared to Patreon or Paypal...
Starting a Patreon or putting a Paypal button on your website are ways an individual can raise money on an ongoing basis, but those tools are not designed for groups, and the money flows are opaque.
Collectives are designed to be administrated by multiple people, so even if the original founder leaves, the funding can continue. Budget transparency is automatic, and fiscal sponsorship means stuff like tax reporting is all taken care of. Just bringing in money is only one part of the puzzle.
Compared to Xero...
While Open Collective is not a fully featured accounting tool, it gives you everything you need to effectively and simply manage a budget and track expenses. Since Collectives outsource all the complicated stuff to their fiscal sponsor, like accounting and invoices, you won't need a complex tool like Xero.
Compared to traditional fiscal sponsorship...
Our tech platform makes fiscal sponsorship efficient, automatic, and transparent, in contrast to traditionally slow, manual, and opaque processes. Everything you need in order to see and control your money is at your fingertips, not hidden away in a back office. There's no cumbersome bureaucracy.
Plus, fiscal sponsorship is our main mission instead of a sideline—we do one thing and we do it well.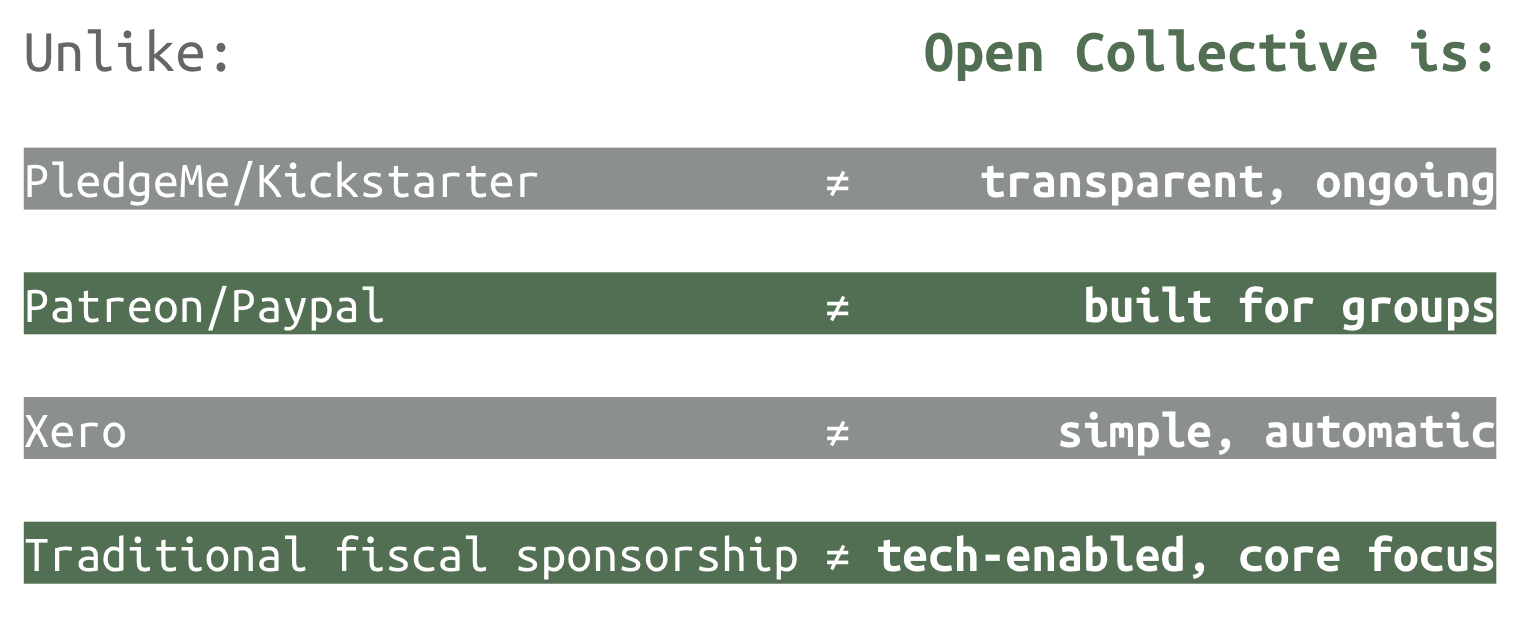 All that, plus you get a page online telling the world who you are, and designed to engage your community and increase your funding, with features like events, blogs, newsletters, and more.
FAQ
What's with all these similarly named things?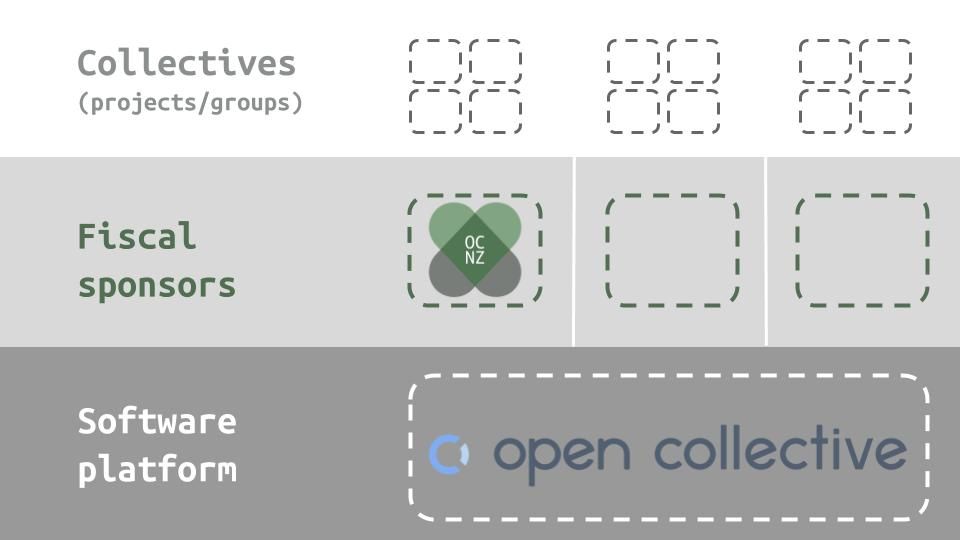 Open Collective Inc is the company that makes the Open Collective software platform (incorporated in the US). Its relationship with OCNZ is like any other software vendor (not a parent company or owner). Open Collective is intentionally open with its brand, as it's designed to be decentralised through diverse fiscal sponsors.
Fiscal Sponsors are entities around the world who use the software platform to provide their services. Some are topic-based (like Open Source Collective), while others are geographically focused (like Open Collective Brussels). Anyone can start one, and there are over 100 active on the platform.
Collectives are the projects, groups, and initiatives looking to get funded.
Open Collective New Zealand is a new fiscal sponsor especially for kiwi Collectives.
What does it cost?
The fee is 5% of funds raised.
The standard fee for crowdfunding is 5-7%, but they don't provide fiscal sponsorship. The standard fee for fiscal sponsorship is 10%, but they don't provide a tech platform. So I think our rates are a pretty sweet deal!
For credit card transactions, there's also a 2.9% payment processor charge, plus an optional donation to Open Collective Inc to help support development of the software platform. These don't apply to bank transfers (people can choose either payment method at checkout).
OCNZ's budget is fully transparent, too. Fees go toward covering overheads like admin, user support, legal advice, and accounting, marketing, and use of the Open Collective software platform.
Who is behind OCNZ?
I'm the founder, Alanna Irving.
My background is in open source social enterprise tech startups. I live in Wellington, and I've been working remotely with the international Open Collective team for several years. I'm also executive director of a couple US-based fiscal sponsor entities on the platform, which each handle millions of dollars (so I've got a bit of experience).
Are you a not-for-profit?
OCNZ is a regular limited company, but our legal terms specify that Collective funds can only be used for that Collective (not by the company), and that any unused Collective funds will be donated to charity. OCNZ's operating budget and any profit derives from the 5% fee we charge for our services.
Can I see the fine print?
Sure! We're transparent about everything. Here are OCNZ's full terms and conditions, which Collectives agree to when they join. We've even included handy translations of the legalese.
Join
I can't wait to see what kind of amazing Collectives emerge in Aotearoa!
Go here and click 'apply' to get started now, or contact nz@opencollective.com if you have questions.
---
P.S. We're also forming an exciting partnership with an established charitable trust, so we can meet the specific requirements of philanthropic grant funding and enable tax-free donations to qualifying charitable Collectives. If you're interested in charity fiscal sponsorship, get in touch and we'll add you to the waiting list.