Open Collective Update - October 2023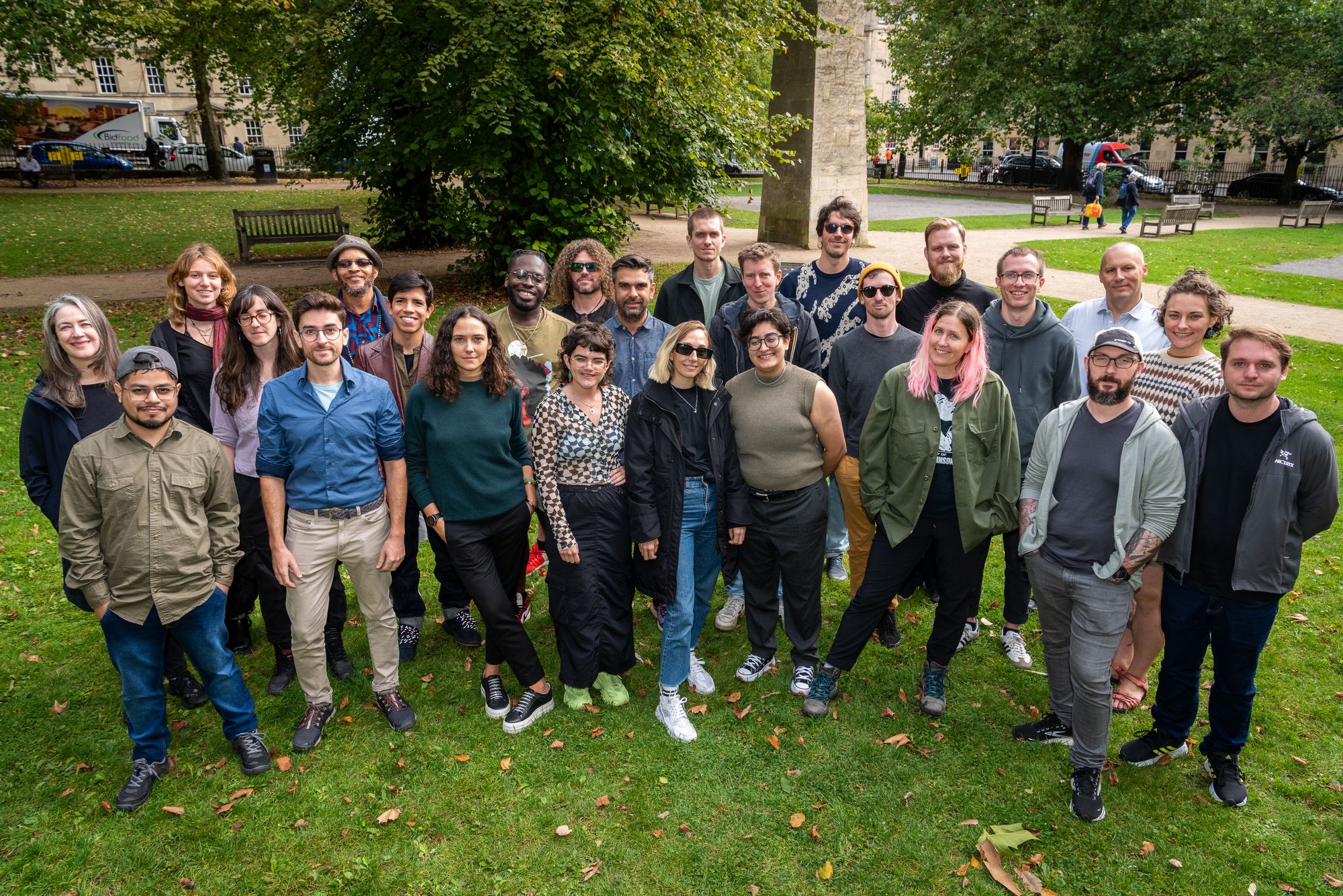 In this month's newsletter, we're excited to tell you about a couple of new updates to the platform, as well as news from collectives and hosts around the world.
---
Introducing Preview Features
We've introduced a Preview Features option that allows you to test out selected upcoming features on the platform, before they're fully released.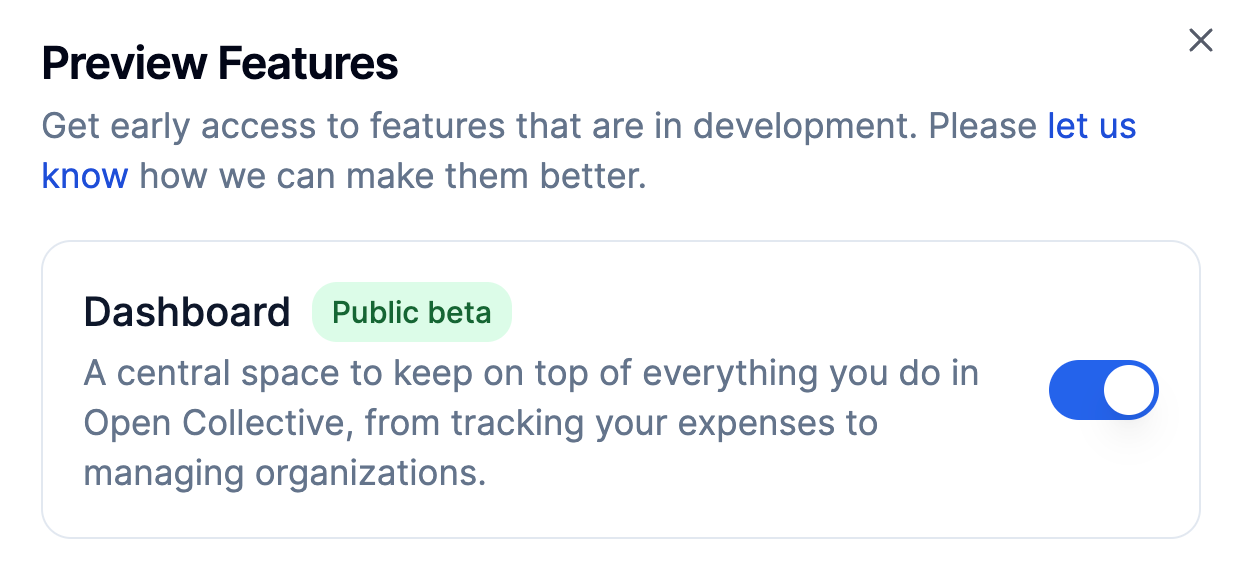 This preview phase helps you to try certain features and updates at an earlier stage, and find out how they work for you. So don't forget to let us know about any fixes or improvements you'd like to see.
Find out more about Preview Features.
---
Welcome to your New Dashboard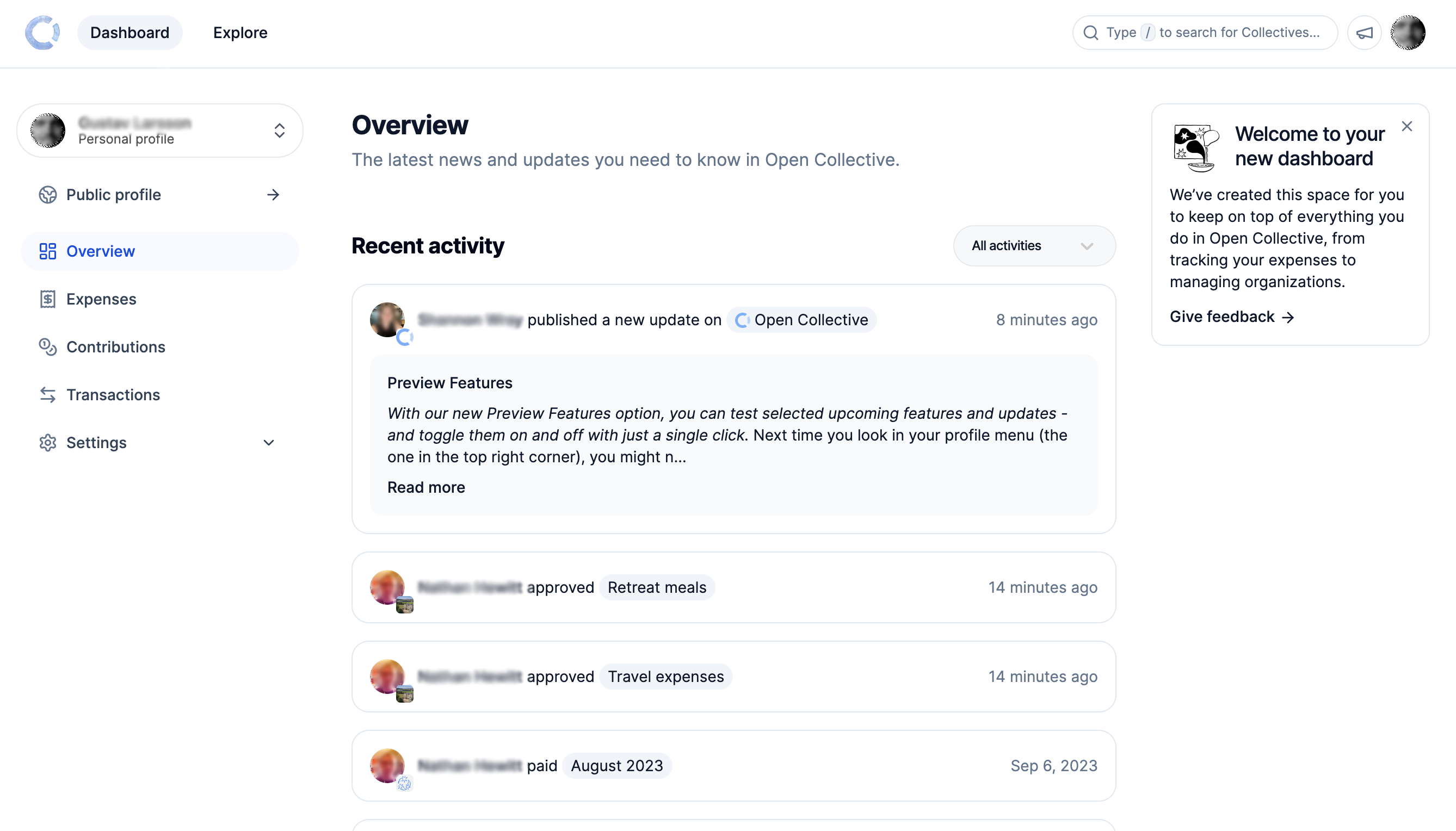 We've been working behind the scenes for the last few months to create a Dashboard that showcases key features in a more intuitive and streamlined way.
That Dashboard is now available to all users on an opt-in basis. It's your home base where you can manage your Open Collective activities, including:
Keeping track of relevant news and updates
Checking your transaction history
Tracking, reviewing and approving expenses
Monitoring incoming contributions
Switching between individual and collective/host/organization admin profiles
You can try out the new Dashboard for yourself by opting in via the new Preview Features menu.
And don't forget to let us know about any comments or suggestions. We're interested to hear what you think.
For more information about our new Dashboard design, read the product release.
---
Open Collective 2023 Retreat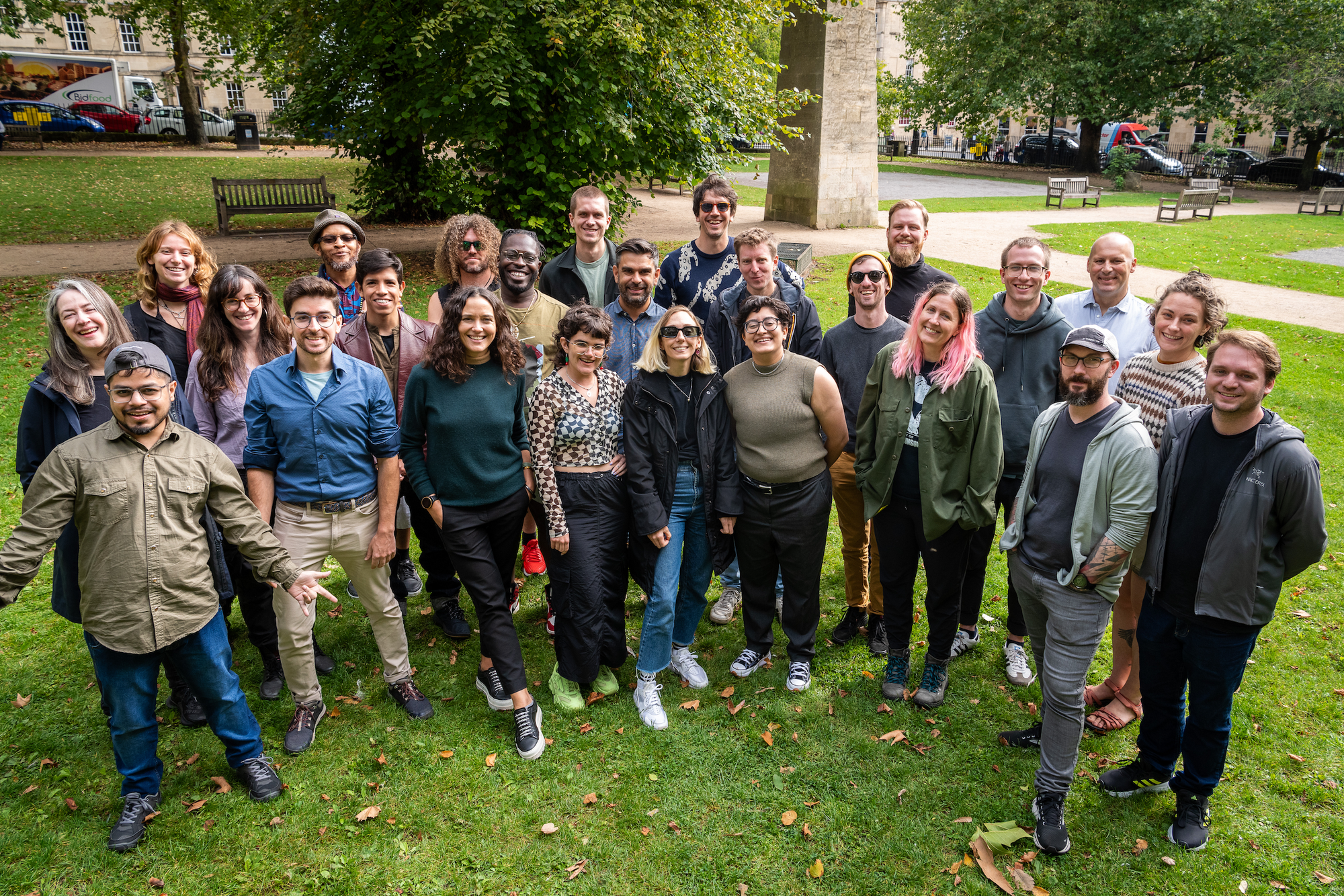 The Open Collective's team is made up of talented people from all over the globe. That's why we hold a Team Retreat every year to bring everyone together.
This year we gathered in the beautiful city of Bath in England. The week-long event gave us a chance to align strategically and collaborate face-to-face on our plans for the future.
The incredible folks at Open Collective Foundation, Open Source Collective and Open Collective Europe also joined us for our gathering.
---
News and Inspiration
A few things we're excited about this month…
🌻 Open Collective Foundation (OCF) is pausing new applications through February 2024 to give it the chance to respond to its recent growth, and to continue upgrading and improving the services it offers its members.
👩🏻‍🏫 Art schools and other forms of education can prove expensive for artists. Can cultural co-operatives offer an alternative? OC Inc's Chief Cultivation Officer Caroline Woolard talked to Next City about her research into the potential of co-ops to provide powerful real-world training for artists, and how it's informed her work at OC.
👋🏼 Alanna Irving says Goodbye to Open Collective. Over the last seven years, she has made her mark as a champion of distributed leadership, open source software, exit to community, and the growth and values of Open Collective Foundation. We wish you well on your journey ahead.
💡 Lauren Ruffin and Tim Cynova of Work Shouldn't Suck have been unveiled as Open Collective Foundation (OCF)'s new Interim Executive Leadership team. They'll be helping OCF to update its systems and search for its new permanent executive director. Welcome Lauren and Tim.
🏛️ The WP Community Collective (WPCC) has announced the recipient of its first Accessibility Fellowship. The group - hosted by Open Collective Foundation - has awarded the funds to Alex Stine, who has been working with the WordPress Accessibility team since 2016.
👾 Lauren Gardner has taken on the role of Executive Director at Open Source Collective (OSC) after a year and a half as Head of Operations.
🌠 Earlier this year, our CEO Pia Mancini gave a talk about the power of collectives in Paris as part of the Funding the Commons 2023 conference. See the conference here!
📚 Stories about aid and social impact are inspiring, but how do we ensure we're inviting different voices and perspectives? This new guide offers advice and interviews about the power and potential of Ethical Storytelling.
🌳 We want to wish Leen Schelfhout all the best as she prepares to depart from her role at All for Climate. Leen co-founded the social and climate justice non-profit, and has seen its tremendous growth as Executive Director. A team including Babette De fauw will continue her great work.
🛒 A new mutual aid kitchen has been launched in the North Side of Richmond, VA. The kitchen was made possible thanks to the work of Richmond Food Not Bombs and RVA Community Fridges, and will house fresh food, pantry items, and equipment.
🤝🏽 Open Collective investor Roy Bahat featured in Fast Company recently, talking about his work building bridges between worker movements and corporate leaders.
👩🏼‍💻 Superbloom has published research into the lives and contributions of designers in OSS.
---
Events
Got any events you want to add? Post them in #events in this slack channel and we'll promote them here
👾 19th October - Open Source Collective Community Call.
🦔 19-20th October - The Co-op is hosting an in-person hackathon to encourage collaborative tech solutions within the tech industry.
🐸 23rd October - Join Peoples Hub online to discuss the value of solidarity economy movements, and how they can work.
🐊 25th October - RadHR is putting together a group of like-minded people, aiming to think deeply about what it means to live our values in the ways we organize.
🐞 25th October - Activism vs. Organizing - What's the Difference and How to Optimize Your Efforts.
🐇 26th October - All for Climate General Assembly.
🦊 October/November - El Cambalanche is hosting an online workshop series looking at the struggles and successes of creating autonomy from a de-/anti-colonial perspective.
🐼 November - A Bookkeeping Cooperative is running a financial foundations workshop series on line to help co-ops, non-profits and other projects to build their finance skills.
🦋 3rd November - Open Collective Foundation Community Call.
🐟 17-18th November - The Diverse Leaders in Climate and Agriculture Summit, held in Durham, NC, brings together partners from the agricultural, finance and climate justice sectors.
🐌 5-10th December - Registrations are now open for the 2023 Earth Social Conference in Colombia.
---
Posts that make us proud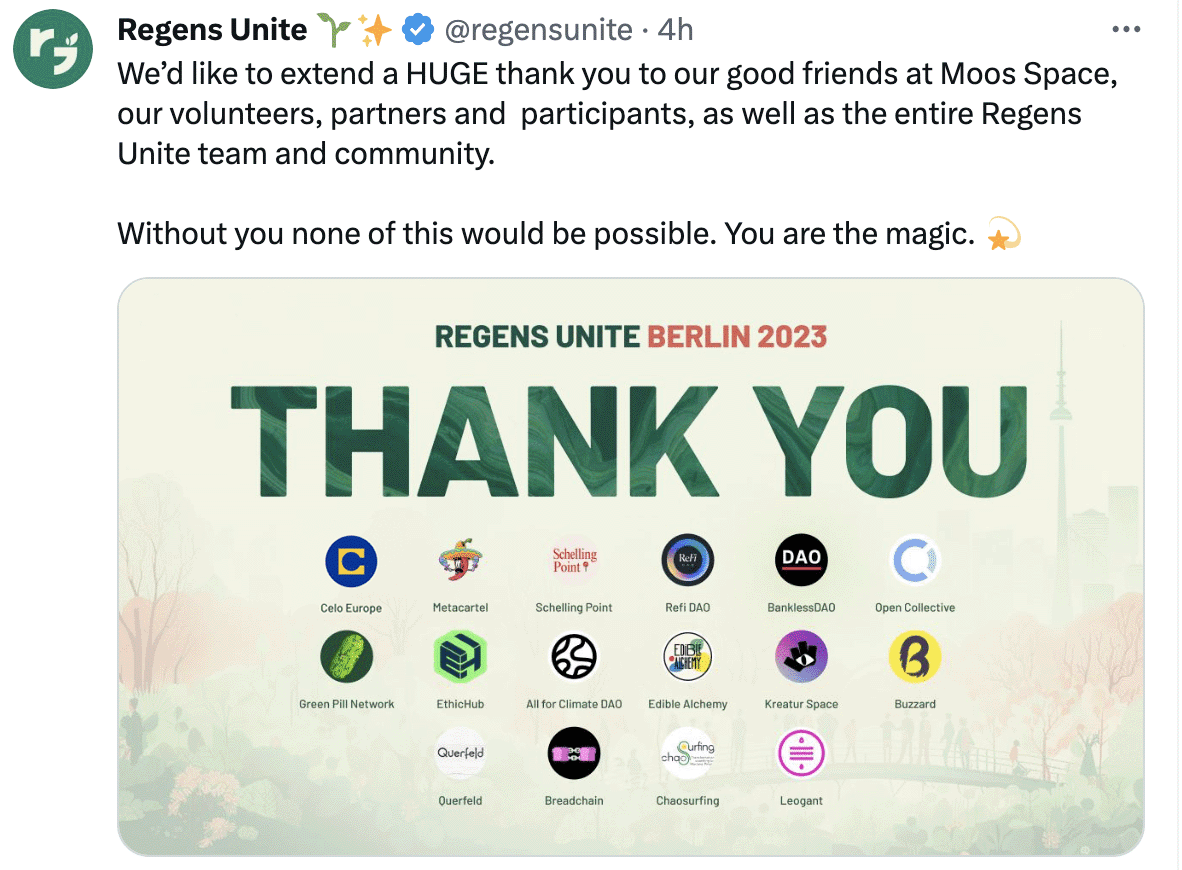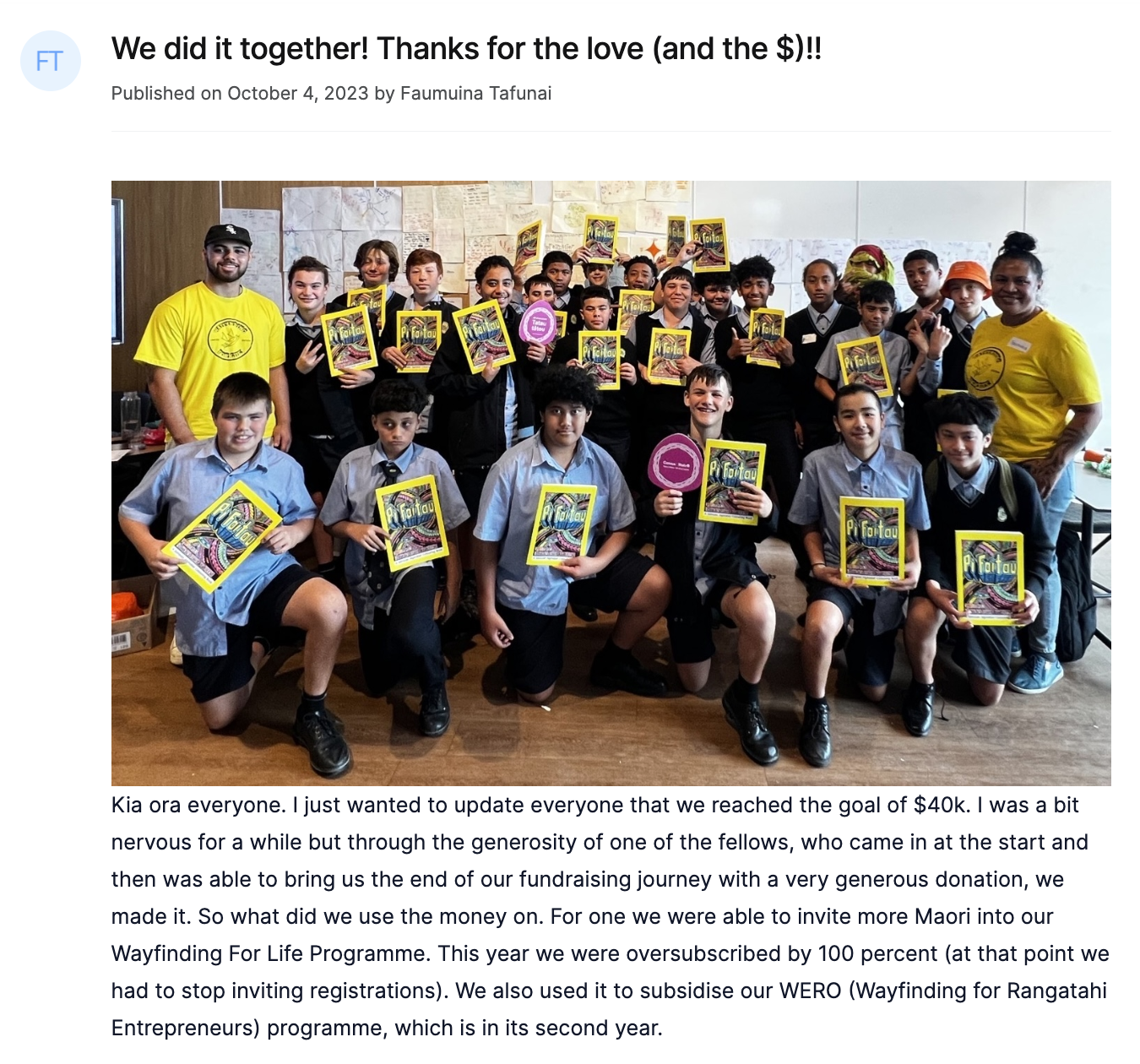 ---
Monthly Leaderboard
Top Contributors
#startsmall $5,000,000
The EQT Foundation $531,000
The Babochki Collective $350,000
Facebook $150,000
Anne D. Hummel $109,681
Founders Pledge $101,000
NDN Collective $100,000
MSH Consultants $75,000
Community Leadership $64,407
Plymouth Octopus $41,520
Top Collectives
By Contribution this month (USD)
teamopen.tech $5,000,000
Manifest Grants $633,813
Atlanta Community Press $378,206
MapLibre $150,360
Money Justice $115,086
By Contributors this month
Logseq 580
AnkiDroid 247
South London Love Fundraising 108
The Week 99
Top New Collectives
By Contributions (USD)
teamopen.tech $5,000,000
Fridays for Future München $22,286
Uprising Commissary Fund $12,005
Creatives 4 Climate Aotearoa $9,749
Chicago Police Response $7,034
By Contributors
Chicago Police Station Response 91
Selenium 17
BLADET 14
---
Open Collective User Research Pool
Register your interest to participate in surveys and interviews about the platform, and help us improve Open Collective 🤗