Open Collective Update!
New Expense Flow, Bank Transfers, No Fees for COVID and more!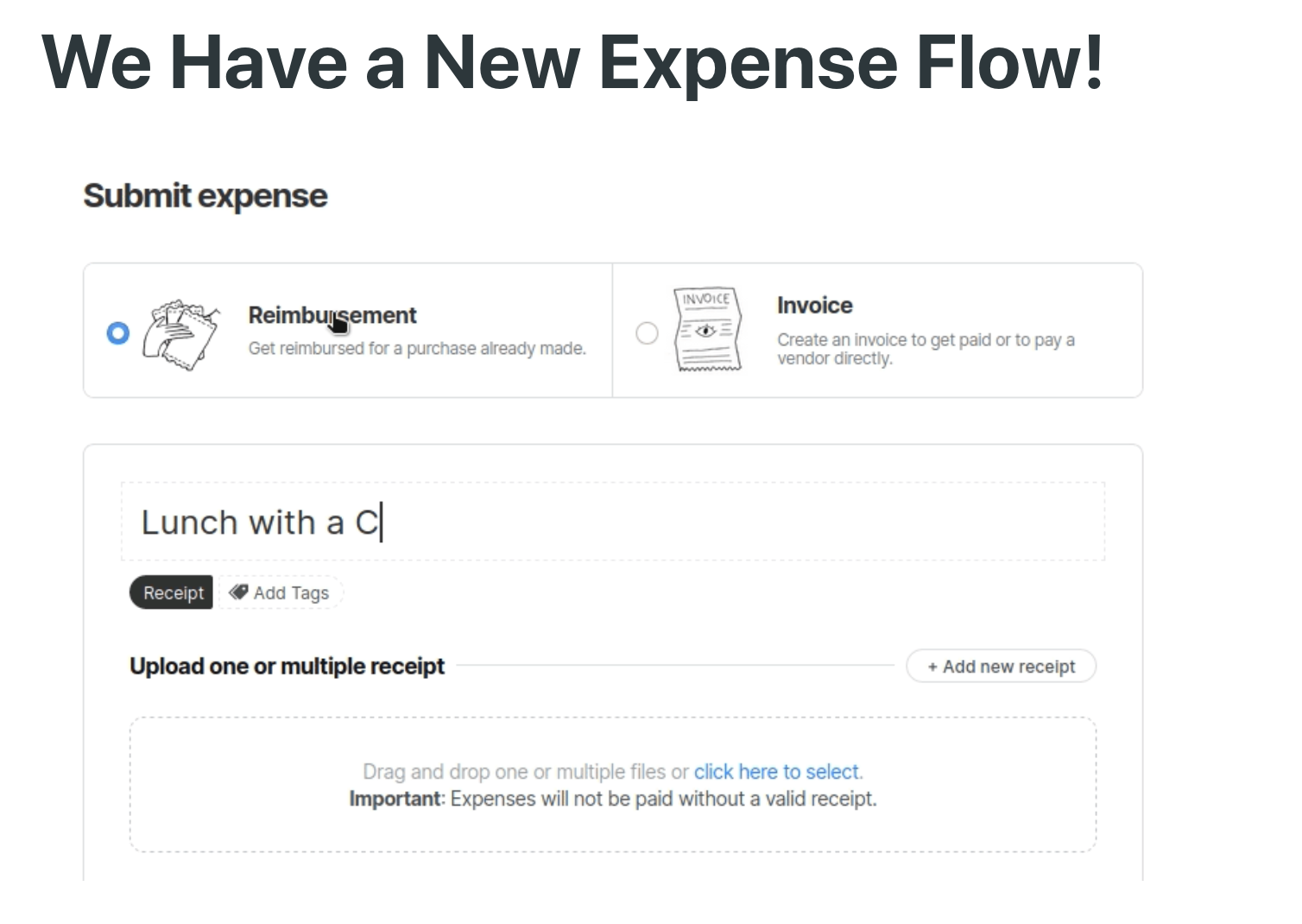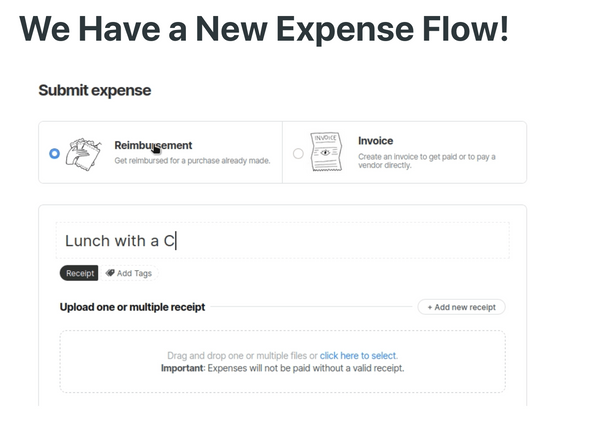 Hello friends! It has been a while. Between COVID-19; a key team member (Alanna Irving!) going on parental leave and our roadmap efforts; we've been a bit swamped. But we are back and we have a lot to share! We hope you are all safe and in good health.
We Have a New Expense Flow!
Submit multiple receipts for reimbursement at once.
No need to upload invoices! Type your details once and it will save them.
Add custom tags categorize your Collective's spending.
Big upgrades to approving, managing, and commenting on expenses.
Read the docs: How to submit an expense
Please give us Feedback: Feedback Issue
---
Bank Transfer Payments Enabled
Payouts from Open Source Collective are no longer limited to PayPal!
Just select bank account for the payment method when you submit an expense.

🚨For Fiscal Hosts: How to automate payouts with Transferwise>
---
Crisis Relief Collectives have 0 fees
We are waiving our fees on COVID-19 related Collectives until the end of June and are offering free 501(c)3 Fiscal Sponsorship in the US in partnership with the Open Collective Foundation.
---
We want to keep the 0 fees after June so we are giving donors the option to support us.
We can't survive without revenue and we want to keep giving COVID-19 Crisis relief collectives a 0 fee service. We are experimenting with a new option for donors of COVID-19 collectives the option to give a something extra and support our work. Please encourage your donors to give some extra so we can continue to provide this service!
🚨🛎️Please note, these donations to the platform are currently showing up as platform fees. Rest assured they are not fees withdrawn from your funds, it's an option for donors to give something extra. We are working on a better way of displaying them. Do not hesitate in contacting us if you have any questions: support@opencollective.com
Create a COVID-19 Relief Collective >
---
The Open Collective COVID-19 Fundraiser in on!
We know sometimes is difficult to know where to give. In the last months we've seen hundreds of mutual aid funds, PPE fundraisers and frontline workers support groups join Open Collective. Some of them do very well and some of them struggle. Budgets and support change over time. We talk to them so we know where more money is needed and when.
Please support the Open Collective COVID Fund so we can disburse your donations across the different collectives according to their current needs.
Give to the Open Collective COVID-19 Relief Fund >
---
New User Menu
We redesigned our new user menu. Thank you Sudharaka Palamakumbura for the contribution! You can follow Sudharaka's work on GitHub or thank him on Twitter <3!
---
Tweets that make us proud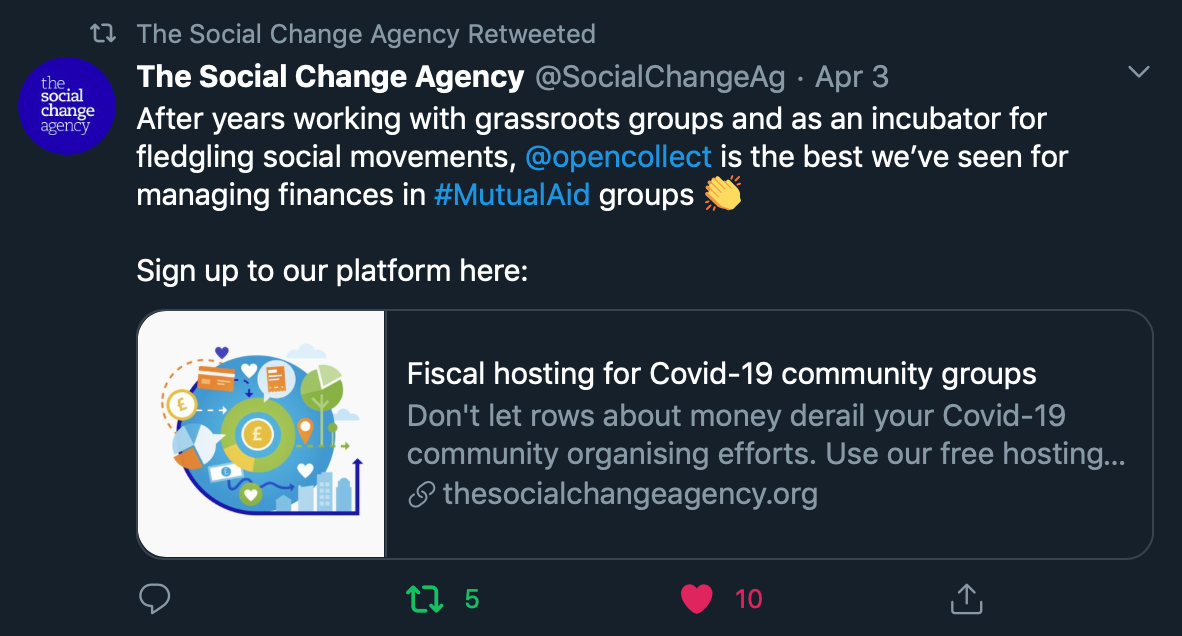 ---
Monthly Leaderboard
Top Sponsors
Consider this when deciding where to work!
Schmidt Futures $300,000
Bitmex: $300,000
Shopify: $27,000
Eutopia Foundation $25,000
Frontend Masters $26,475
Google Chrome $11,600
Bespredel: $10,000
Comcast : $10,000
Linux Fund: $10,000
Skyscanner: $8,350
Top Collectives
by new backers
Meals of Gratitude  +292
Bushwick Mutual Aid +257
Oxford Mutual Aid +187

Top New Collectives
by donations
OpenMined Covid $350,000
Red Rover $250,000
Meals of Gratitude $230,000

Thank you! With love & solidarity
The Open Collective Team.