"Solidarity Not Charity" in Bushwick, NY
We spoke with Kristen Ablamsky and Fernando Ramos, two local organizers of Bushwick Ayuda Mutua about New York's community engagement and mutual aid in response to the COVID-19 crisis.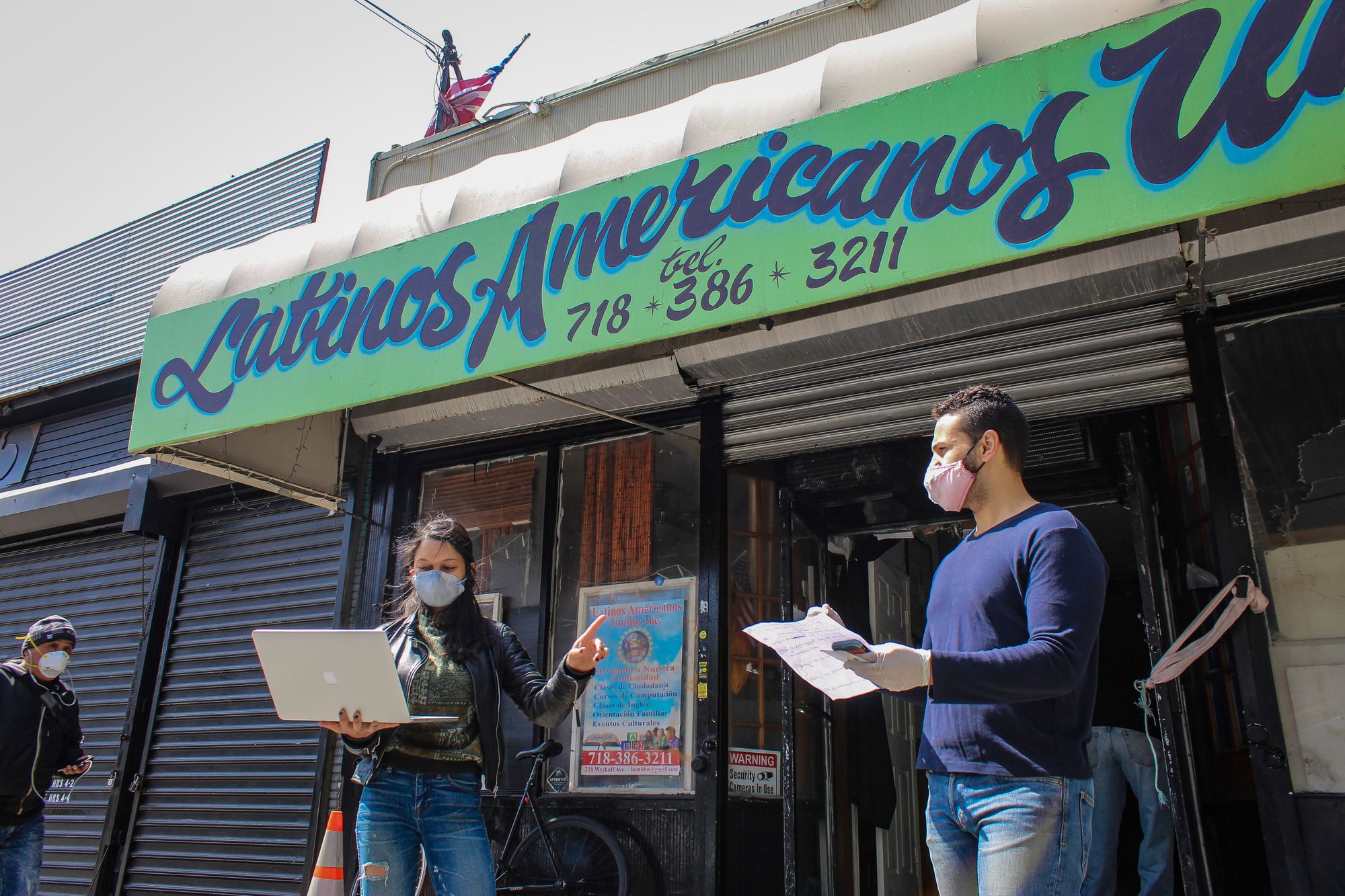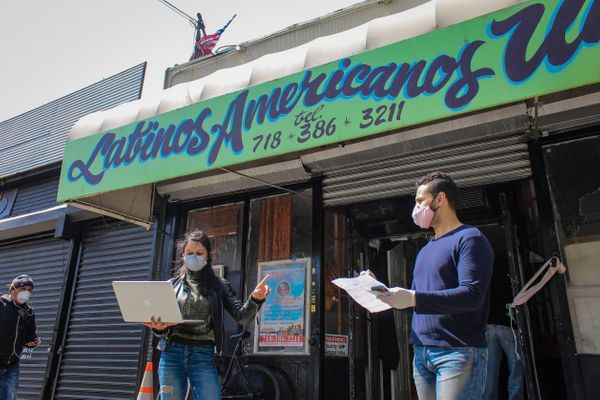 We spoke with Kristen Ablamsky and Fernando Ramos, two local organizers of Bushwick Ayuda Mutua (formerly part of Bushwick Mutual Aid) about New York's community engagement and mutual aid in response to the COVID-19 crisis.
Bushwick Ayuda Mutua joined Open Collective's platform in April 2020 and has so far successfully raised a budget of over $70,000 in order to support a team of neighborhood volunteers who are purchasing and delivering groceries to those in need in Brooklyn.
Tell us about the forming of Bushwick Ayuda Mutua.
Fernando: I connected with Samy Nemir, who is a community activist here in Bushwick, and one of my good friends-he's also Puerto Rican.  He was already involved-he got plugged in through a Facebook group- and he just invited me on a call.
I came into it with the perspective of transparency. I do think that my experience with the hurricanes, our disaster relief efforts in Puerto Rico, really opened my eyes to how important it is to be transparent when it comes to this work. There has been a ton of things that came up after Hurricane Maria-in terms of misuse of funds. Eventually these mutual aid groups were created organically in a really interesting way- because in Puerto Rico, there was no basic electricity for several months and there were no lines of communication.
People were organizing just based off going to other people's homes and checking in on them.
So, your work puts people in touch with their communities more.
Fernando: Yeah, it can create a much more resilient community.  It was very apparent that there were a ton of COVID patients that could not leave their homes. And we didn't know who they were at certain points- they were not identified- and a lot of sick people that weren't able to access food- all the food delivery websites were basically down in New York for several weeks. There was a big need of getting food to people in need. That's what we identified, and it mutated over time and grew.
So I feel like it was kind of founded on the idea that we wanted to help our neighbors. People were doing this all across the country, all across the world- it's not a new concept, but it's something that we can do.
Especially when we have the privilege of being able to leave our homes and go to the grocery store, of being younger and having an immune system to do that, but also being protective and having the mask and the PPE and all that.
How did you harness everyone's skills and get moving in a cohesive, efficient way?
Kristen: As far as identifying roles, I think it's really that someone 'opts in'. It has become very clear that you know, Fernando's experience and where he wanted to be was in fundraising. He had skills and finance and also was passionate about community. And trying to community-build, and trying to bring in the people that we're serving...to focus on not only small business, but what about jobs? What are the other needs?
I kind of just raised my hand and I think other people did the same. We essentially have 'working groups'. So Fernando and I might collaborate on 'fundraising', but I'm collaborating with Maria [Herron] from Mil Mundos and Sara [Rodas], on processes for efficiently intaking requests, for creating a flow for tagging requests for our delivery days, for confirming those families with the bilingual team to following up later to make sure they actually received that support.
All of that has just happened organically. We're on Slack most of the day, and we also use Signal for sharing things that need to be encrypted. And then we also have WhatsApp. And we're able to come together for a project and then disband.
As for focusing on groceries, we had a conversation about our focus and our vision and what our impact will be based on the impact that's needed. And it seemed like groceries was where we could start. Because a lot of food pantries in Bushwick were closing. Unfortunately, some of the meals provided by existing organizations were a sandwich, an apple and orange...Maybe it doesn't provide the level of dignity and feeling of feeding your family over the course of a week, of being able to choose what you eat, and also just getting the robust nutrition that children and people just generally need.
These working groups come together and focus on 'Okay, we need a process for handing over calls. We need a process for getting people on site that know where they're delivering food to, because now we're just focused on groceries.' And now that we've become comfortable in that process, we're able to look at all of those additional requests we've been getting for PPE, for soap, for diapers, for baby food, for cash assistance.
So we can start to address them and use the community connections and the organizations we've partnered with over the course of a few months to connect them out to the organizations that can help, and of course, with their consent.
We also took a lot of inspiration from and are in constant communication with the other mutual aid groups around the city. We're in a Whatsapp group with mutual aids like Harlem, the Bronx, Bay Ridge, East New York... There's a Ridgewood group and we're right on the line with them.  So that's a lot of inspiration too. Bed-Stuy specifically has always been very transparent in sharing their systems. And we're able to really clearly communicate that 'funding is our problem'. 'Handling calls' is our problem. And we can help each other in that way because it's open source. There is no secret sauce. We want everyone to have the secret sauce.
So what attracted you into using our platform? What attracts you about open source in general?
Kristen: I, as coming from tech, have always wholeheartedly supported open source everything, especially as it pertains to anything with algorithms, anything that requires housing data, and also the transparency in the work we do-I totally agree with Fernando-it's critical. Just as a trust policy, really, it's just that people need to be aware of who's doing this. It holds us accountable. And I think there's a lack of ethics in tech. So ethics in tech, specifically when you're serving a community and trying to get a community empowered to uplift itself as well. I couldn't think of a better application.
Fernando: Yeah, it was interesting, because, for us, a big thing was this idea of opening up a bank account- this was our first conversation.  'Do we open an account?' This idea of having one or two people being personally liable for all this money that we're raising, right?
We were seeing a lot of other groups that were doing the easiest methods. They were either doing a GoFundMe page or just crowdsourcing via Venmo or CashApp, or using all of them.
And the idea of mixing the money with our personal accounts, for me- just in terms of the fundraising practices I've learned throughout the last couple years when it comes to political fundraising and compliance and transparency and all these different things- I think it's really important for that to not be intertwined.
I started researching- what are different options, different things we could incorporate?
I reached out to a lot of people within the nonprofit world. I joined a national mutual aid Slack channel, Mutual Aid National Connections, searched 'fundraising', found Open Collective, searched for 'Mutual Aids', looked into the leadership, who's the founder, learned more about Pia and the incredible work she's doing...saw a couple of her videos, spoke to you all before making any decision. Y'all were really open to meeting and then taking the time to really talk through what our needs were, how this would work.
So then we got to a point where we're like, 'Okay, we need to start raising money. We need funds...' And then decided, "Okay, let's move forward with Open Collective. It seems really easy to get the fiscal host status"- which, for us, was really important.
These mutual aid groups are incredible because they are organic, but there are issues when it comes to tax liabilities and things like that. We wanted to make sure that, again, it didn't fall on the individual, but that we had some kind of protection and support from an institution or an already established 501(c)(3).
Kristen: Logistically, the ability to manage both the expense and reimbursement process, as well as communicating to the people, the donors, that allow us to even have anything to expense and reimburse, makes sense. And as a group that's only been working together for a few months, it's really convenient to just have that on one platform. It makes it super manageable. And how much of the materials are tweakable and open source is awesome, because it allows us to think a little bit longer term. How do we integrate this into a website? How do we tweak it for events and on-the-go fundraising initiatives? -That was really helpful. And the empowerment in having a fiscal host-because we know other mutual aids without- it gives us the ability to access local and city financing and even discounts that typically nonprofits get that we wouldn't have available to us through, like TechSoup. It allows us to access that.
We have the budget of a small nonprofit, but we're just people who live in Bushwick who see other people in Bushwick who need help. We have no legal status that would allow us, on paper, to be 'in need' of these discounts. We've gotten some of them, luckily, through Air Table and even Twilio and Zapier, but there was no guarantee. That was just crafty outreach.
Fernando: ...And additionally, just with a 501(c)(3) status, we've been able to get donated gift cards from Food Bazaar.  Literally, one of the requirements was "Provide 501(c)(3) status".  So immediately you all sent us the information, and we got the gift cards within several days.
I do think that the big component was the expense side too. I love the double approval process-having us look through it, and then someone from the Open Collective team looking through it.  Overall, it's been really easy for volunteers to adjust to this platform. And the payment methods of getting those funds from our Open Collective account to the distributor has been very streamlined and easy.
Open Collective just makes it easier for these groups to focus on our efforts. We are trying to support our community and Open Collective has allowed us to be able to not worry that much about the tax side, the 501(c)(3) side. We are able to do our work, like accessing funds and opportunities that are being provided to us. I think it's really with the help of Open Collective, and not having to worry about these other aspects of an organization. You all just help us and support us in that way.
Kristen: The Open Collective experience, it's very clearly built with ethics in mind. It almost reminds me of a Crunchbase for ethical-only companies... you see who's behind a thing that's asking for money. And you can get an eye into the organization in a way that you can't get from other great sites like Kickstarter. So I think that was really cool, too. So coming from the tech, startup, and advertising world, seeing that much transparency, and availability from your team to support us in either the minute or big questions we had; it's been really great.
When you're talking about the longevity of these projects, how do you think the mutual aid ecosystem can become more sustainable going forward?
Fernando: We have been working through our values and our guiding principles in order to know what we want to do in the future.
We have been able to spotlight big gaps in our society, when it comes to people that are not receiving aid that should be receiving support-either from the government or from nonprofit institutions.  There is a group of people that don't have that support or are not receiving that support, and that's where mutual aid groups have been able to come in and identify those needs and really spotlight those issues.
I think it's really important that we are recognizing that there are groups that have been fighting this fight for so long, and that what we need to do is support them and help them with whatever they need. We are purposely going through these conversations about partnerships. We are mapping community leaders and community organizations in the area and having conversations with them like, 'How can we support you and be able to advocate for what we're seeing ourselves,-what we are experiencing?'
There's a big need for support in the immigrant community and this is happening all across the country, all across the world... immigrant families are not being supported in the way they need to be. And, collectively, we need to do more to help these families. We've had many stories and many experiences. I can pinpoint one specific person who called me basically asking,
'I'm experiencing COVID symptoms, my husband is experiencing COVID symptoms', -and this is all in Spanish- 'My husband just went to the hospital here in Bushwick. And I don't know what to do. I don't know what his status is. At the hospital I don't know who to call... I don't know how to get my medications. I don't know which medication to get. I need food, I need all these different things. What should I do?'
That was a lot for me...We immediately knew that what we could do is connect her with the people that could help her: I could identify a volunteer that's close to her, and that person got her groceries, got her her medicines, got her cleaning supplies.
Kristen: We are filling the most basic needs that have not been met by an entire population in Bushwick. And on the other side of it is: mutual aid isn't 'mutual aid' without involving the community we're serving. And that's definitely critical as far as the longevity of mutual aid and Bushwick Ayuda Mutua specifically.
Mutual aid needs access to ethical tech platforms that increase productivity and efficiency- like Open Collective, like Slack, like Airtable-without us having to fear either data privacy, or high monthly costs. And for Bushwick Ayuda Mutua, that's one of our next steps, is making sure we can continue to reallocate the resources that certain members and organizations in our community have in an equitable way.
Right now. It's about $30 per family-that's going down a little bit- but that's still a lot. We get about 250 requests per week. So hopefully the tech platforms continue to give us access, or I guarantee there's going to be a resurgence of competitors willing to do so. There definitely has been a conversation or two in the cross-borough mutual aid groups, talking about, 'Okay, I'm gonna build a tech platform for us, that we know is private, that we know fulfills the needs.' And that's another critical part of mutual aid, in my opinion-at this scale.
We're also researching the privacy and data policies of all the companies we're using. We need to look and see. 'Are those tools we want to use? Are those tools right for us-as a mutual aid in a community that's largely Latinx and a community that's largely 25% under the poverty level?' And those are questions we've asked from an ethical standpoint, but also a safety standpoint.
Fernando: What's happening across the world, this may not be the last time a situation like this arises. Like New York went through Hurricane Sandy, 9/11...there's been crises like these in the past, and it's not going to stop anytime soon. So I do think that these mutual aid groups are important because they have built an infrastructure that makes the community more resilient in order to prepare for things in the future.
Kristen: It's sort of inherently political, without politics. We don't need to get approval from anyone to say, "Hey Neighbor, do you have 30 bucks to feed your other neighbor?" It's literally just the right thing to do.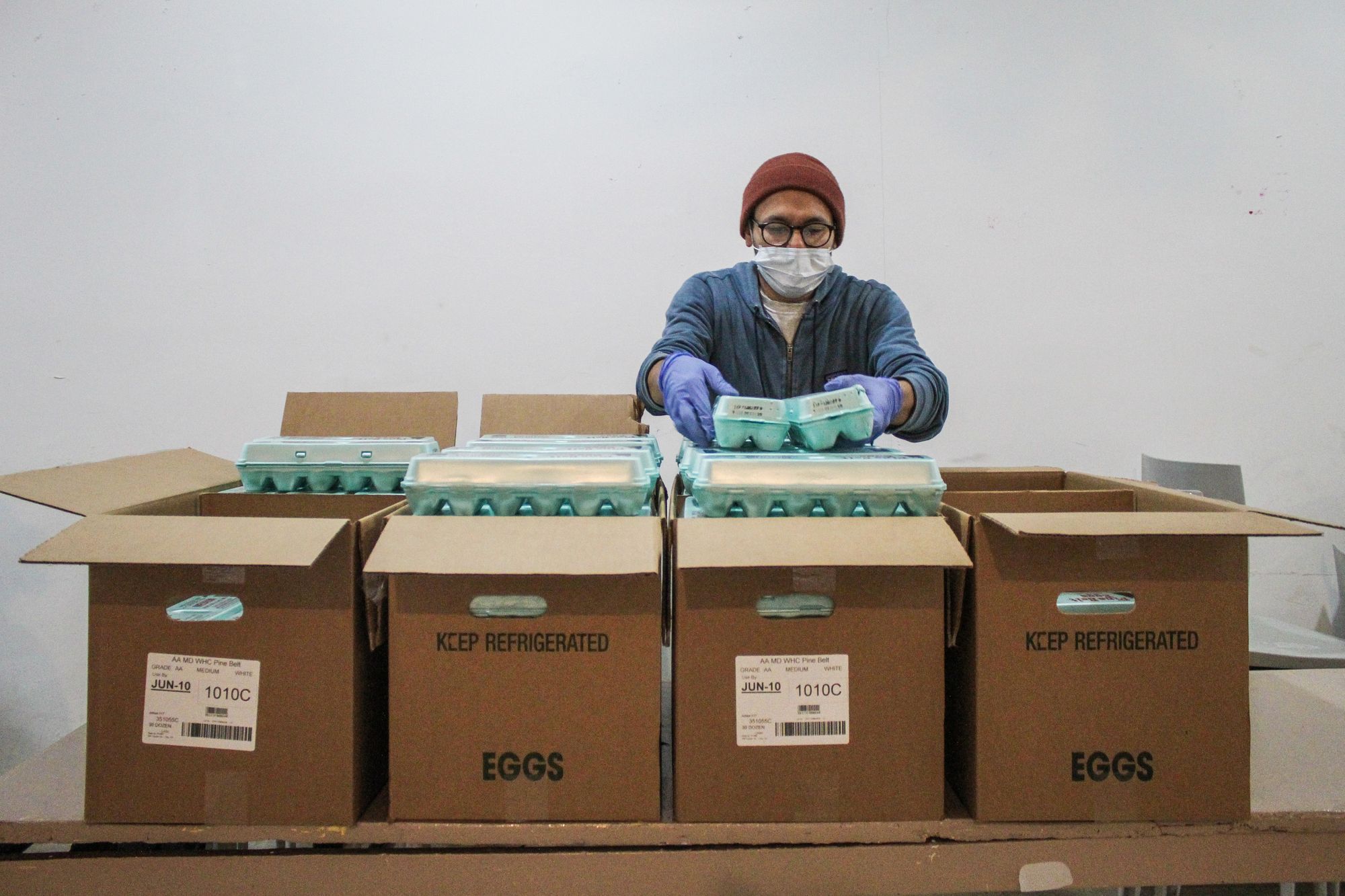 Who can get involved and how? And also, what do you want the world to know about Bushwick Ayuda Mutua? Is there anything else you'd like to share?
Kristen: So to get involved, you can go to our Open Collective- not just saying that because every dollar counts and goes towards purchasing groceries for people who need them in our community- but also because at the top, you'll see two links: one where you can sign up to receive help, and one where you can sign up to give help. You're also able to contact us about anything else-anything in the world: comments, questions, ideas- and I think that's really the best outlet.
Fernando: Just to reiterate what I said in the beginning, we have to recognize the history of Bushwick being a place that has gone through a lot of issues- like gentrification, a lot of people have been displaced, 25% of the population is under the poverty line... our neighboring neighborhoods, like Bed-Stuy-who gets around 1,000 calls per day, Ridgewood is getting almost the same amount as us...
Kristen: And you know, these are communities of color, and the issues that were already here just continue to be exacerbated...and so your involvement is critical, and not closing your eyes to the issues around the block is also critical.  And- not to be a downer- mutual aid is a sign of hope...that's too cheesy for me, but it's true.
Fernando: And overall, similar to all the mutual aid groups, the theme, the value of solidarity not charity...we are not a charity...we are a nonlinear group of people, we are volunteer-based, we all have different jobs. I think that is really important to recognize that these groups are organic. And Open Collective has allowed us to be that way- and not have to seek a 501(c)(3) status and have a president, and have a board, and all that stuff.
Also recognizing that COVID-19 has been really difficult and devastating for our community. Many people have passed away, or have had their lives affected, or have lost loved ones. It's been really difficult. Hopefully the work that we've done and are planning to do can help support our community.  
I think most importantly we need to recognize the essential workers and the people who are putting their lives at stake.  Being able to provide people in need with groceries and to support our neighbors with these needs has been really rewarding.
Read the full interview transcript here.