What's new on Open Collective?
We have so much great news this month, we could barely wait to share it with you! ❤ ❤
We have so much great news this month, we could barely wait to share it with you! ❤ ❤
🚨🚨 Sponsors Offers 🚨🚨
We are excited to announce two great offers for the projects on the Open Source Collective!
Croissant is offering a free week + 20% off the first 3 months. Find out why they support Open Source. Tweet them your appreciation!
Algolia is grateful for the work that you do and has invited all the open source projects on Open Collective to use DocSearch project for adding a really nice search to documentation. Better search means fewer duplicate issues or support tickets from users \o/. It's free for Open Source Software. Read more about why they do this here!
Hacker Paradise is offering $100 off their upcoming trip to South America️ (simply mention Open Source Collective when registering). You can also apply to get one of their 2 Open Source Fellowships to spend a month working on your open source project in South America, expenses paid!
Featured Collectives:
Welcome Between the Wires to Open Collective! Vivian and Preethi are offering a behind the scenes glance at the creation of developer products to inspire and educate.They are just launching a campaign to raise $5,000 for doing 20+ more interviews in 2017. Check out their launch post and great interviews here and help them reach their goal!
SF Art and Film has been connecting teenagers with the arts for many years and asks you to support them in this goal of making the arts a vital presence in the lives of young people and your extraordinary generosity is what makes it possible.
Welcome Open Source Design! We are thrilled to have you on board our first design collective. Do you care about design in open source? 👉 You can now fund it!
Congrats Max Stoiber from React Boilerplate for being featured on Forbes Austria about your Open Source work!👏👏
Webpack and Qubes-OS are on 🔥🔥🔥🔥! Join their growing backer community. Preact had a great launch, 💪💪 help them keep it up !
Changelog
You can now add a widget to your company or personal website to show the collectives that you are supporting. Simply add the following line of code:
https://opencollective.com/:username/widget.js</a>">
This is how it looks: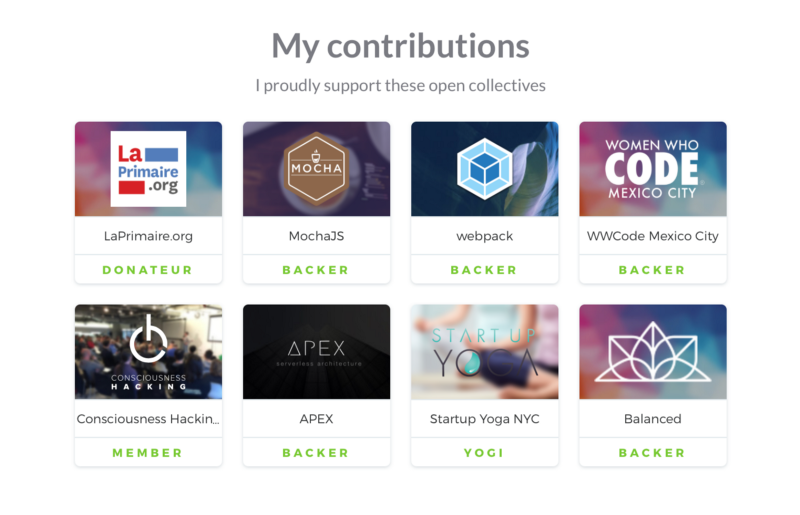 Thanks for being part of this growing community! Find us on slack.opencollective.com or hello@opencollective.com.