OCF Announces Artist-Organizer Fellows and new hire: Communications Organizer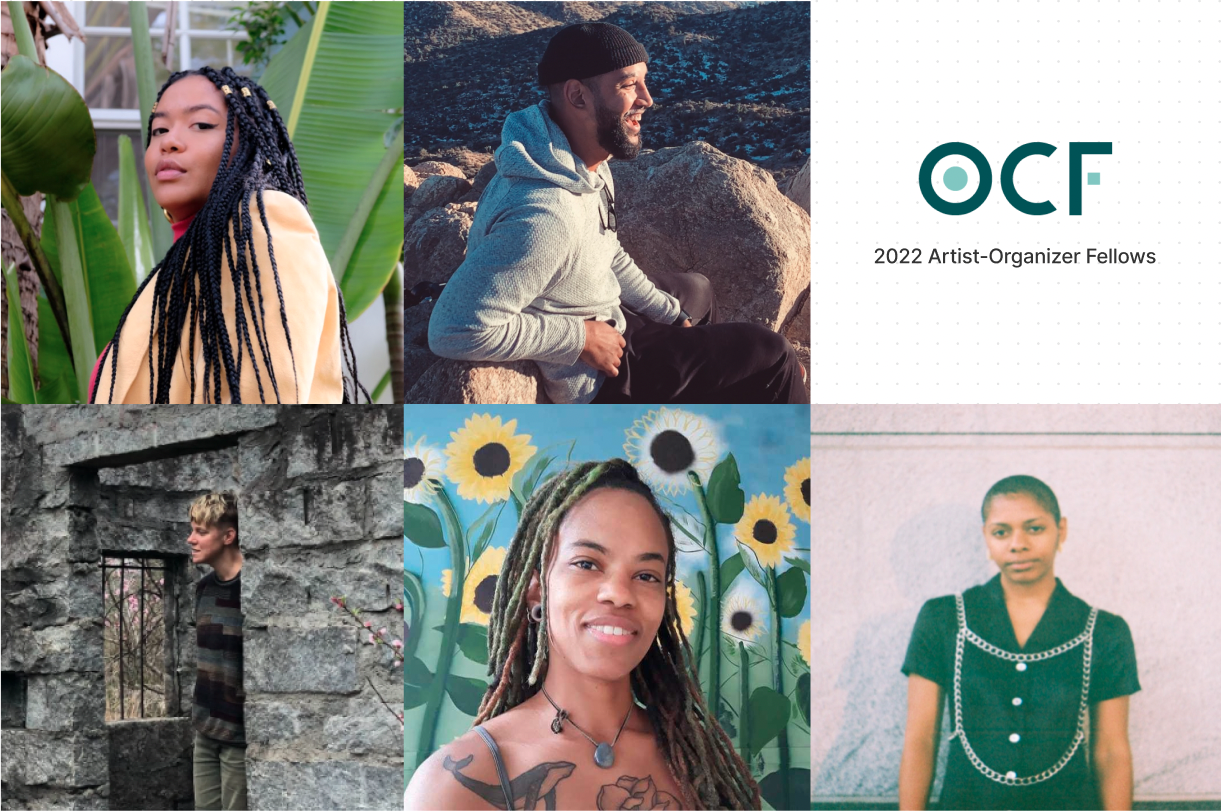 At Open Collective Foundation, solidarity is our guiding principle. We have taken the last year to begin weaving a mycelial web of relationships to intentionally connect the collectives we host—mutual aid, open source, climate justice, and more—to the broader Solidarity Economy movement. Why? Because, we are stronger together! As the Sustainable Economies Law Center puts it, "communities everywhere are responding to converging economic and ecological crises with a grassroots transformation of our economy that is rapidly re-localizing production, reducing resource consumption, and rebuilding the relationships that make our communities thrive."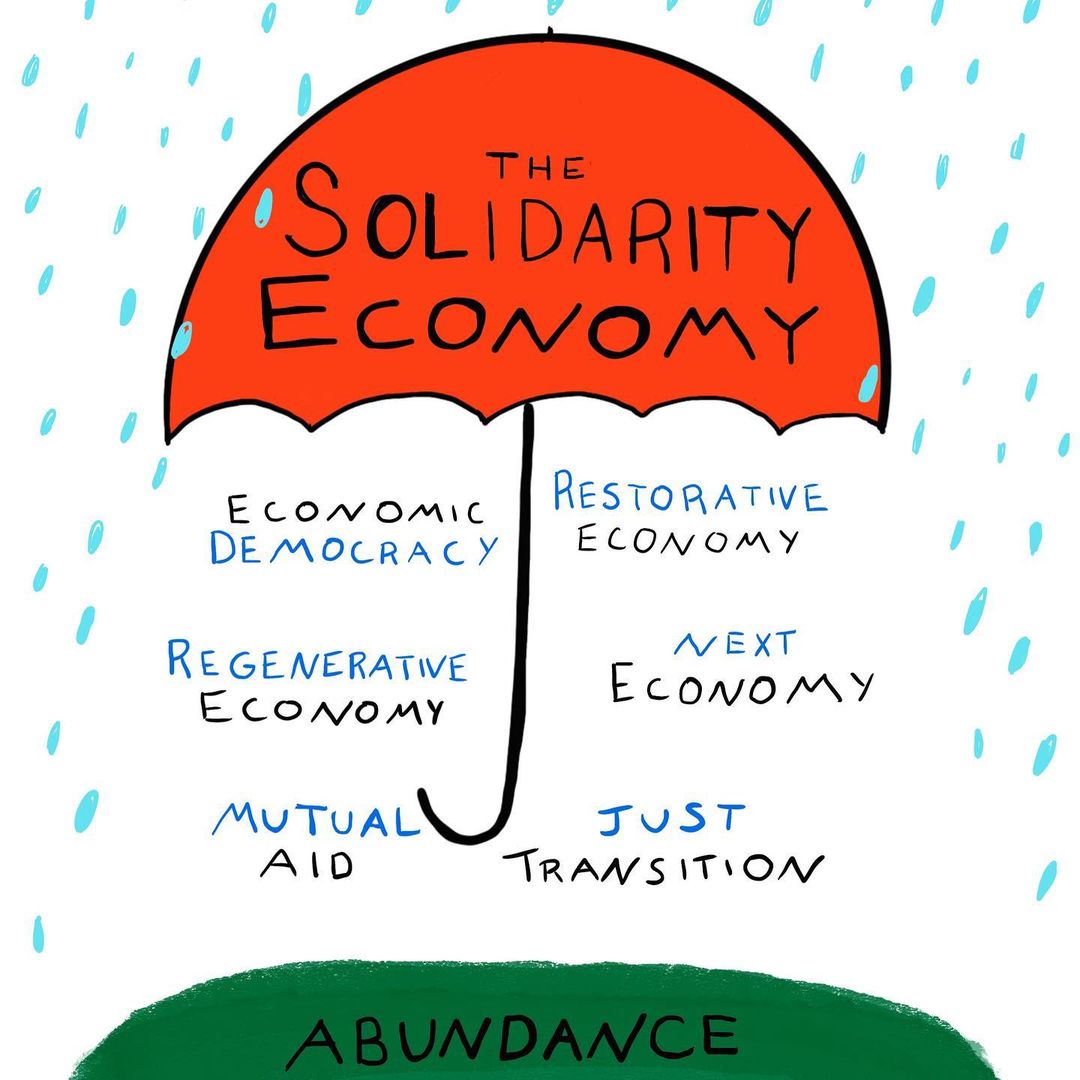 Around the world, groups that value collectivity and transparency have organized together (across issue-areas) to win and co-create tailored tools of support, including paid training programs, solidarity financial vehicles like non-extractive loans, and policy platforms in what is known as the Solidarity Economy movement. You can connect with a group near you and learn more at the New Economy Coalition (NEC) and with the U. S. Solidarity Economy Network. You can also follow New Economy Coalition on IG and Twitter for inspiration, stories, and jobs in the movement.
Arts and culture are central to the work of resisting harmful relationships of exploitation and building grassroots self-determined initiatives. Try to imagine a social movement without music, imagery, dancing, films, storytelling, poetry, posters, or food! Nia Hunter is leading this work as a Project Officer and Social Media Coordinator at the Baltimore Roundtable for Economic Democracy (BRED), where they help worker coops in the greater Baltimore area get the capital they need to start and grow. Watch a clip of Nia's work and find out more about Nia and our four new Artist-Organizer Fellows, below!
We honor creative people and their ability to:

offer portals for reflection, pleasure, and healing,
celebrate and commemorate,
help us tell the stories of our movements,
envision the world we deserve,
create a new "common sense,"
invite us to feel, sing, dance, and know what collective work and transparency is in practice!

We are excited to announce that Open Collective Foundation has hired Communications Organizer Bobby Joe Smith III and that we have brought on a team of Artist-Organizer Fellows: Nia Hunter, Niki Franco, Ebony Gustave, and Robin Bean Crane for 2022.
We had an enormous response to our search for the Comms Organizer role, and have been in touch with all of the applicants to give feedback and to stay in community. Thank you for your interest in working with us. Stay tuned for more opportunities – and consider applying to join the engineering team as a Product Lead or Developer, right now.

Meet Bobby Joe Smith III (he/him), our new Communications Organizer!
Bobby Joe is a Black and Lakota graphic designer, web programmer, and emerging media artist living in Los Angeles, California, where he is an MFA candidate in the Design | Media Arts program at UCLA. His research and creative practice centers abolitionist, decolonial, queer, and feminist frameworks within Black and Indigenous communities. He is particularly passionate about culture and language revitalization amongst his tribe and harnessing the generative and transformative intersections of art, design, and tech to amplify ways of knowing and being emanating from the margins.
Location: Los Angeles, CA (Tonva land)
Website: www.bobbyjoesmith.com
IG: https://www.instagram.com/bobbyjoesmithiii/
LinkedIn: https://www.linkedin.com/in/bobby-joe-smith-iii-32165b2a/
Meet Artist-Organizer Fellow Nia Hunter!
Nia Hunter (they/them) is a mother, artist, small business owner,  and maker who creates visual art to validate, uplift, and bring light to people's lives. Nia is a Project Officer and Social Media Coordinator at the Baltimore Roundtable for Economic Democracy (BRED), where they help worker coops in the greater Baltimore area get the capital they need to start and grow. Our non-extractive lending process helps prioritizes inclusion and equity, rather than locking communities out of the funding they need to start owning their economy. As an Artist-Organizer Fellow, they will use their years of co-op experience and artistic development to expand OCF's reach and impact through social media.
Location: Baltimore MD
IG: https://www.instagram.com/nia.little.tree/
https://www.instagram.com/little.tree.art/
https://www.instagram.com/bred.baltimore/

Meet Artist-Organizer Fellow Niki Franco!
Niki Franco (they/them), sometimes known as Venus Roots, is a Caribbean community organizer, podcaster, writer, and artist of different disciplines. Franco is the cofounder of queer BIPOC art collective called (F)empower and a Civic Engagement Organizer at youth organization called Power U Center for Social Change. They also run a bi-monthly book club where they select and discuss Black radical texts, Indigenous texts, and stories that support revolutionary imagination. Franco's politics are informed by Black feminism/marxism, Third World struggles, solidarity economy, and anti-colonial struggles. Franco founded and directed a community bail fund from 2019-2021 focusing on bailing Black mothers, Black trans sisters, and queer folks in Miami/Broward.

Location: Miami, FL (Miccosukee and Seminole land
a film co-created about the solidarity between Black southern maroon communities and Indigenous people in the Everglades of South FL. https://vimeo.com/575809166
podcast:
https://podcasts.apple.com/us/podcast/getting-to-the-root-of-it-with-venus-roots/id1467004252
Meet Artist-Organizer Fellow Ebony Gustave!
Ebony (she/her) is a community organizer, cultural preservationist, and storyteller. They are the founder of Cooperative Journal podcast, an archive of interviews spotlighting how people are collectivizing to meet their needs within the solidarity economy. As a  co-steward of its multimedia umbrella, they are bridging the gaps between political education, imagination, co-creation, and actualization. Within their community, they challenge the notion of access to health through organizing a pay-it-forward restaurant model (Karma Kitchen), donation based wellness pop-ups, and starting a free 24/7 herbal medicine cabinet. The common thread between all of her work is bringing awareness to collective solutions that are harmonious with nature, people-centered, and cultivates agency.

Location: Brooklyn, NY (Lenape Land)

Links:
Cooperative Journal Podcast
Cooperative Journal Media
IG @cooperativejournal


Meet Artist-Organizer Fellow Robin Crane!
Robin (they/them) is a multimedia storyteller with a focus on film, animation and participatory media. On the Cooperative Journal Media team they co-coordinating visuals and political education, spotlighting communities building economies where all can thrive. Their other hats include: garden steward at Canticle Farm, Redistribution Story Bank Director with Resource Generation, and Narrativist with The Next Egg. They are queer and have ancestors from north and west Europe.
Location: Oakland
@reeverthingproject on IG
Robin's Study Map on Solidarity Economy Arts (work in progress!)
We are looking to add a fifth Artist-Organizer who has a passion for the Solidarity Economy and data visualization!
Are you a person who uses PostgreSQL and possibly Metabase who would get into making queries with our dataset? We are curious how you would visualize OCF (1 host of 300 collectives in a wider constellation of 600 hosts with 13,000 collectives using a shared open-source platform) and what else you would bring to the team. Email caroline@opencollective.com with samples of your work, if you are this person!

Stay tuned as we slowly build community together with you all. Do you want to connect with us or shape this process? Say hi to our team and all the OCF collectives at monthly Community Forums, on Slack, and on Instagram, Twitter, Linkedin, or Facebook.



With appreciation,

Caroline Woolard
Director of Research and Partnerships