Imagining & Enacting the Worlds We Want: Unrestricted Support for OCF Artist-Organizers
Open Collective Foundation reflects back on a pilot program that supported four Artist-Organizer Fellows in 2022: Ebony Gustave, Niki Franco, Nia, and Robin Crane.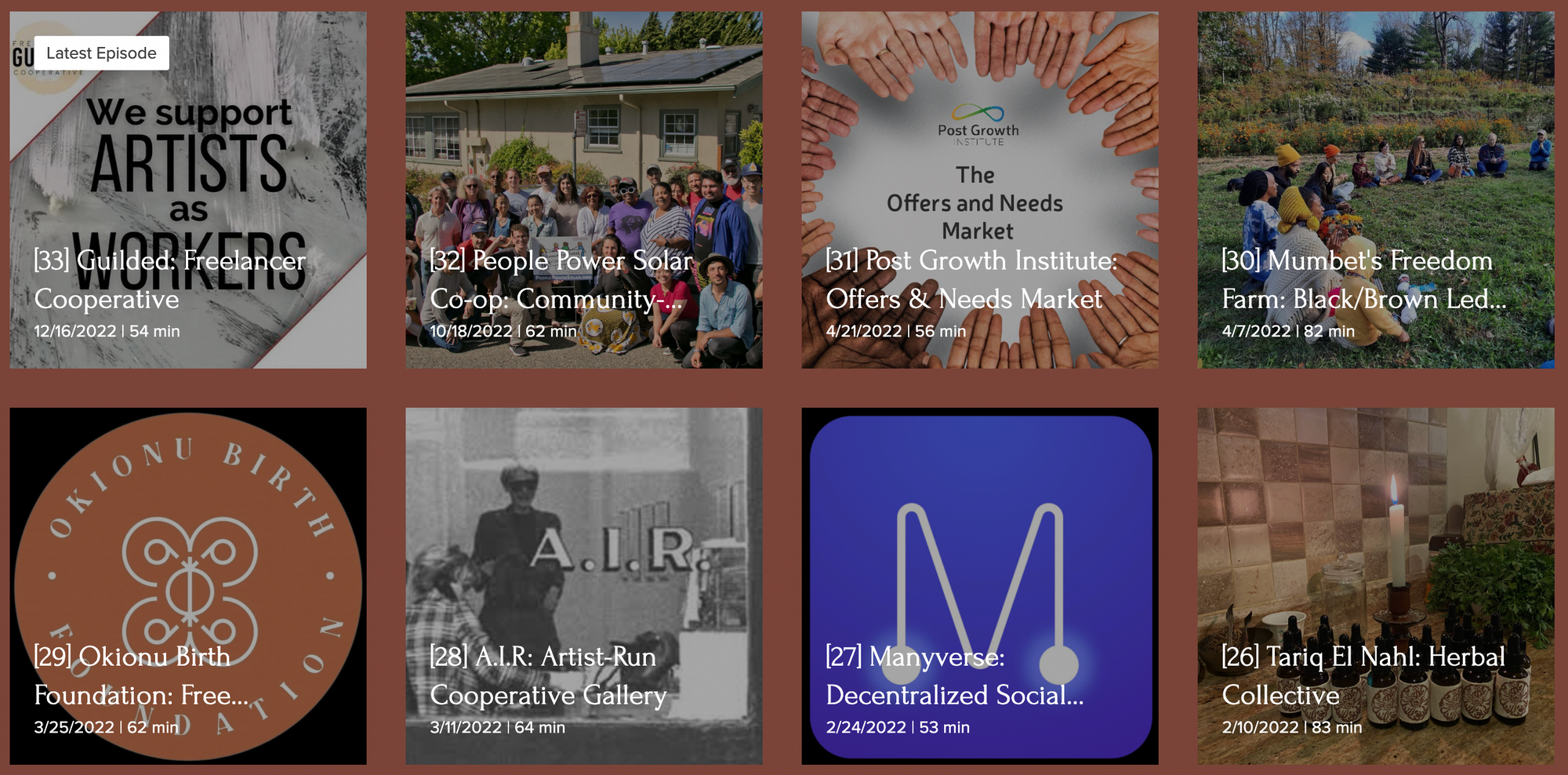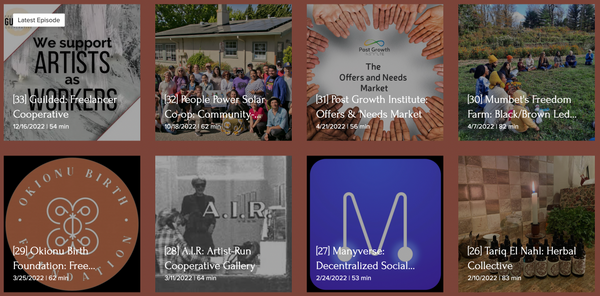 Open Collective Foundation reflects back on a pilot program that supported four Artist-Organizer Fellows in 2022 with unrestricted funds.
Open Collective Foundation (OCF) is part of an emerging network of social justice organizations such as People's Hub, the New Economy Coalition, and the Boston Ujima Project that provide direct support to cultural workers even though we do not identify as arts and culture organizations. At the start of 2022, OCF launched an Artist-Organizer Fellowship as a pilot program to honor four cultural workers with a monthly stipend of $400 each, $4,800 over over twelve months. We did this because we know that arts and culture enables us to imagine and enact the future we want.

Creatives are already producing multimedia expressions and explorations of the Solidarity Economy. Around the world, groups that value collectivity and transparency have organized together (across issue-areas) to win and co-create tailored tools of support, including paid training programs, solidarity financial vehicles like non-extractive loans, and policy platforms in what is known as the Solidarity Economy movement. If you want to learn more about the Solidarity Economy movement, you can connect with a group near you and learn more at the New Economy Coalition (NEC) and with the U. S. Solidarity Economy Network. You can also follow New Economy Coalition on IG and Twitter for inspiration, stories, and jobs in the movement.
Arts and culture are central to the work of resisting harmful relationships of exploitation and building grassroots self-determined initiatives. Try to imagine a social movement without music, imagery, dancing, films, storytelling, poetry, posters, or food! This program is about supporting the work of creative people to build spaces of hope and belonging. How can we build a world we want without first imagining, visualizing, tasting, dancing, and singing about these spaces, together?
Many collectives doing mutual aid, education, healing, open source software, and emergency relief have creative people at the core. In fact, the majority of our team of radical administrators at OCF has a background in the arts. At OCF, Solidarity is our Guiding Principle. This pilot program is one humble offering in solidarity, to acknowledge and appreciate the central role that creatives play in building the worlds we want by shifting beliefs, behaviors, and actions.

What was the selection process, and why did OCF choose unrestricted giving?

We selected this first round of Artist-Organizer Fellows via recommendations from our team, because we wanted to pilot it without a large time burden to cultural workers or to our team. We looked for people already doing creative work in the Solidarity Economy movement. We did the legwork to identify them ourselves. We did not ask for a proposal, attendance at a training, or a budget. We asked ourselves, as a team, if we could offer this support, and we asked potential Artist-Organizers if $400 a month would be of support.

We trust cultural workers to know best how to use the funds, just as they trust us to raise the funds and disburse them in alignment with our values. Unrestricted giving has been documented as a best practice in the nonprofit sector by Trust Based Philanthropy, the Prince Claus Fund, and guaranteed and basic income pilots in MN, CA, and NY. Our first cohort of Artist-Organizer Fellows offered us their creations with critical reflection, joy, and artifacts from the future we long for.

What impact did this pilot have?

We asked Artist-Organizers to reflect back to us what to improve about the program, and what $400 a month for 12 months made possible. The impact of this kind of giving is so much bigger than the artifacts produced. This work is about contributing to a world where creatives are valued regardless of their output. It is about trusting that creatives need time to rest so that visions of the future we want can emerge. It is about knowing that creatives are community members who contribute in ways that are often not visible, like sitting with someone while they cry and holding them in their dignity.

Unrestricted giving is about honoring the ways that creatives turn daily life – the mundane and simple – into experiences of collective reflection, poetry, magic, and awe. It is about letting community organizers and workers everywhere feel comfortable sharing that they are also a creative person, and that these skills – of sensing, feeling, and imagining – are central to all of our work. Of course, creatives will also make things. But what comes before the work of creating, and what we want to celebrate here, is that creative people give themselves permission to to feel, to dream, and to reflect. The very existence of cultural workers is a living invitation to all of us to join a world where feeling, dreaming, and reflection is honored. This is what we are supporting, and what we lift up with this pilot.

"When OCF offered to give me $400 a month, acknowledging the work that I was doing through the podcast, it was the affirmation that I needed to perceive this work as something that I can deeply enjoy without compromising my values AND get paid. It was honestly the catalyst I needed to quit my job and make more spaciousness to put my energy fully into solidarity economy work.
I've never received unrestricted funds that I didn't have to apply for until OCF offered it. It's wild for an organization to be like, we believe in what you are doing, here's a gift of appreciation to keep going. I suggest every org with enough budget do this for local artists and organizers on a rotating basis. Tangibly, the $400 allowed me to upgrade my podcast set up and spiritually it opened me up to the possibilities of actualizing my dreams."
Location: Brooklyn, NY (Lenape Land)

Links:
Cooperative Journal Podcast
Cooperative Journal Media
IG @cooperativejournal

"When the OCF team offered this opportunity, it took us a while to fully receive it. There were voices in my head like 'is this fully unrestricted, shouldn't we be making something useful for them?' After many reminders from Caroline, it finally soaked in that OCF's definition of "usefulness" was us making/being whatever we feel is needed from our vantage point of the solidarity economy movement. It also inspired us to be more transparent with our own budgeting. We often looked to OCF as a model for systematizing how we practice our principles. I hope to see more organizations investing in the wholeness of artist-organizers, believing in us to relationally and creatively spread the good news and embody these cultural shifts.
Location: Oakland
@reeverthingproject on IG
Robin's Study Map on Solidarity Economy Arts (work in progress!)
Cooperative Journal Media made this podcast with OCF Collective St. Louis Mutual Aid:

LISTEN: https://www.cooperativejournalmedia.com/podcast/episode/224bb4a4/21-st-louis-mutual-aid-meeting-basic-needs-through-community

LEARN MORE + SUPPORT: https://opencollective.com/stlmutualaid  

Cooperative Journal Media made this podcast with OCF Collective Okionu Birth Foundation:

LISTEN: https://www.cooperativejournalmedia.com/podcast/episode/2042e930/29-okionu-birth-foundation-free-postpartum-care

LEARN MORE + SUPPORT: https://opencollective.com/okionu-birth-foundation

Cooperative Journal Media created an Offers and Needs Market in our Community Forum.

LEARN MORE ABOUT THIS practice: https://www.cooperativejournalmedia.com/podcast/episode/2ac80d8b/31-post-growth-institute-offers-and-needs-market


"The monthly stipend has been supportive in my transition into a full-time artist, as I take a sabbatical year from grassroots organizing on-the-ground to alleviate burnout and focus on my care and resilience practices during this time.
Concretely, I've used these funds to purchase books focusing on economic praxis/political economy across the Global South, and how radical US-based organizers and artists can integrate these strategies—creative interventions to extraction and exploitation, and the role of imagination, art, and story-telling in all of these."

Location: Miami, FL (Miccosukee and Seminole land
a film co-created about the solidarity between Black southern maroon communities and Indigenous people in the Everglades of South FL. https://vimeo.com/575809166
podcast:
https://podcasts.apple.com/us/podcast/getting-to-the-root-of-it-with-venus-roots/id1467004252
Niki Franco / VenusRoots made this podcast with with OCF Collective Affect:

LISTEN: https://podcasts.apple.com/us/podcast/pandemic-aint-over-with-elea-chang/id1467004252?i=1000565785165

LEARN MORE + SUPPORT: https://opencollective.com/affect

"With this money, I could afford to take time to be creative. I was able to get paid for doing the things I like to do, like creating educational videos. This was my first Fellowship and it was so wonderful to be able to be in conversation with other creatives who are also interested in solidarity practices."

Nia, Baltimore Roundtable for Economic Democracy
Location: Baltimore MD
IG: https://www.instagram.com/nia.little.tree/
https://www.instagram.com/little.tree.art/
https://www.instagram.com/bred.baltimore/
Nia made educational TikTok videos such as this one, to explain what a fiscal sponsor is:
See more https://www.tiktok.com/@opencollectivefoundation
We are currently reflecting on the success of this pilot, and considering the best way to launch the second iteration in 2023. Stay tuned, read our blog, and follow us on social media to find out more in early 2023: News / IG / Twitter / Facebook



"I know that the Black Banjo Reclamation Project, Cooperative Journal Media, and Reparations Clinics in NYC all joined because we shared our love of OCF with them. They were all able to raise money through the platform! …I really hope you all keep this going...it's been deeply empowering for me."
If you are looking to learn about the Collectives we work with, and the impact they are making, discover a Collective near you. If you prefer to support many Collectives at once, give to our pooled participatory grantmaking fund to support Collectives in the Solidarity Economy movement, to distribute power and wealth and root it in local communities.
I encourage your open curiosity about unrestricted giving, and to sense what this small offering made possible for our ecosystem at large. If you are moved, I invite you to share this with any business, nonprofit, or other entity that might have funding to offer to the cultural workers that they rely upon indirectly to imagine the worlds they want.

In cooperation,

Caroline Woolard

Director of Research and Partnerships, Open Collective Foundation