Open Collective June 2018 Newsletter
Welcome HousingDB, Thessaloníki ReactJS Meetup, OnionBrowser, Biohackers Collective, BootstrapCDN, The Lounge, bigjs and Jest to Open…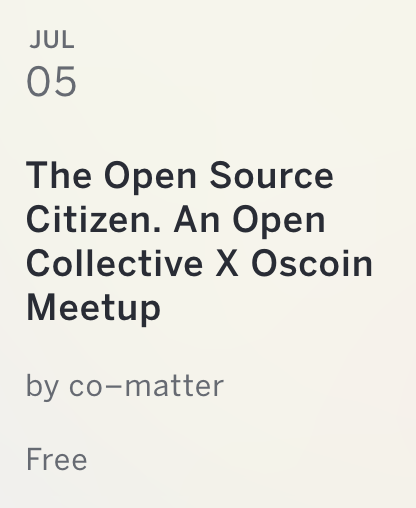 Welcome HousingDB, Thessaloníki ReactJS Meetup, OnionBrowser, Biohackers Collective, BootstrapCDN, The Lounge, bigjs and Jest to Open Collective! We love seeing moremeetups joining the movement! 🎉🌈
We rolled out v1 of PayPal donations:
You can now make one time contributions to open source projects hosted by the Open Source Collective. Future versions will include recurring donations, and expanding to other hosts.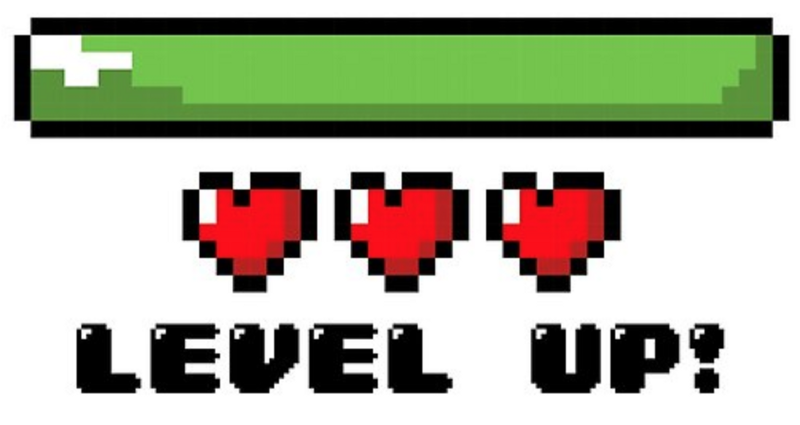 We are hiring!
Jobs come and go but your community remains. Join us and help communities around the world become more sustainable and transparent, starting with the open source community. Help us level up! More info or email us.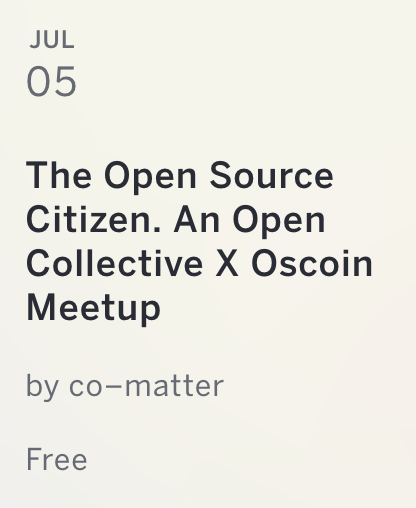 Come hang out with us in Berlin!
Join us for a panel discussion, Q&A and drinks with Pia Mancini and Xavier Damman from Open Collective and Eleftherios Diakomichalis from Oscoin, moderated by Severin Matusek from co-matter. Sign-up here
We'll also be at IXDS for a Pre-Work Talk:
The State of Communities
Tuesday, July 3rd, Doors open 8:30am, talks take place from 9-10am Address
Dear Meetups:
Cloudflare has renewed their commitment to paying for your event's food anywhere in the world! Read more about our experience last year and how to expense it. 🍕🥗🌯
While you are here, check out opencollective.com/meetups for other amazing sponsorship opportunities.
News & Inspiration
Facebook Open Source's Jest is now on Open Collective. Read their announcement about why they are opening up themselves to community funding.
Pía, Xavier, Nick and François from Open Collective will be in Berlin the first week of July, reach out to us or join our meetup if you want to chat!
Nick will be hanging out at Node School Berlin and he'll bring some Tessels.
Changelog brought back their podcast Founders Talk and Pía featured in their opening episode! Have a listen about her work, being a mother, her new role as CEO of Open Collective, our focus, supporting ad-hoc community formation all around the world, revenue and growth plans, and path to sustainability.
SustainOSS is taking place in London Oct. 25th Join us at changelog's slack#sustain if you want to contribute.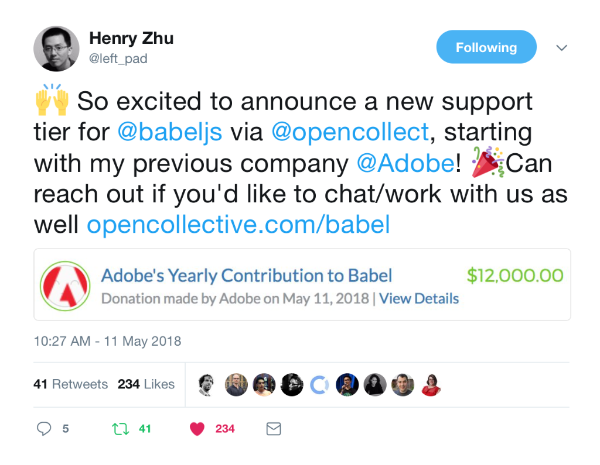 Last month's Leaderboard
These are the top 10 backers from the last 30 days. Consider this when choosing where to work!
1- Coinbase ($19,500 monthly/one-time to rubytogether, rspec, rubocop, babel, mobx, webpack, bigjs, mobx-react-form, nock, styled-components)
2- Trivago! ($10,000 monthly to webpack)
3 — Indeed ($10,000 one-time to webpack)
4 — Facebook Open Source ($5850 monthly to webpack, babel, storybook, material-ui, gatsby, mobx, vue, rollup , electron, jest and parse-server)
5 — Airbnb ($4353 monthly to babel, chaijs, cheerio, react-virtualized, redux-devtools-extension, rspec, rubocop, sinon, storybook, webpack)
6 — Frontend Masters ($3300 one-time to webpack)
7 — Material-UI earned themselves $3087 from carbon ads on their website! (we wrote about this here)
8 — Ahena Health ($3,000 one-time to wwcodeaustin)
9 — Amp ($2,700 monthly to babel, document-register-element, preact, rollup, webpack)
10 — ag-Grid ($2,500 monthly to webpack)
These are the top 5 collectives by number of new backers…
1 — webpack +27 backers
2 — dim +19 backers
3 — darkreader +15 backers
4 — consciousness hacking +15 backers
5 — spyder + 15 backers
…and the top 5 new collectives (created in the last month) by amount received.
1 — bigjs ($5000)
2 — jest ($2030)
3 — sustainOSS — UK ($1500)
4 — make-it-sound ($278)
5 — captainfact_io ($237)
Got any news or stories to share in a future newsletter? Or questions you'd like answered? Let us know! We'd love to hear from you.
With ❤️
 — the Open Collective Team